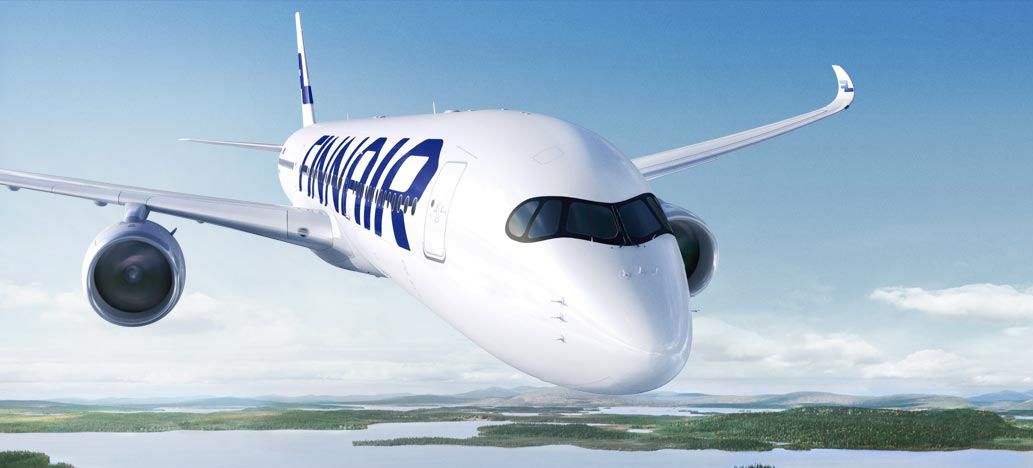 Photos/Video Credit: Finnair
The very first Airbus A350 XWB aircraft to be delivered in Europe has gone to Finnair, which marks a serious upgrade for the Finnish airline. The plane has tons of cool features for luxury travelers, including greater fuel efficiency, an advanced air filtration system that pumps out "new" air every couple minutes, and ambient LED lighting.
To achieve a quick cruising speed and reduce flight time, the A350's wings were put through rigorous testing. "By intelligently controlling the A350 XWB wing's moving surfaces using on-board computer systems, the wing will adapt while airborne–tailoring it for maximum aerodynamic efficiency in the various phases of flight," states Finnair. Range and speed is also achieved with the help of the Rolls-Royce Trent XWB engine, which is apparently 15 percent lighter than previous generations.
Air quality is always a big deal, but its importance skyrockets when a group of people sit in a confined space for hours at a time. The A350's filtering system manages to completely change the cabin air every 2-3 minutes, giving clean and draft-free air. Temperature zones can be manipulated individually and the cabin pressure is kept at sea level numbers for comfort.
Business Class fliers relax on new Zodia Cirrus III full-flat bed seats and access to the Nordic Sky entertainment system in the seatbacks. Of course, complimentary Wi-Fi makes it easy to stay connected with your life on the ground. For the ladies onboard, there's a dedicated powder room that includes makeup and various freshening up supplies. The menu stars Nordic dishes that use locally-sourced ingredients. Berries and mushrooms are picked from Finnish forests, while Mediterranean cuisine is on-hand for some rustic flair that brings in plenty of pasta and cheese.
The best part about the interior is definitely the ambient LED lighting along the ceiling, which syncs its range of 16.8 million different colors with the time of day, location of the aircraft and final destination. "When descending in the East the aircraft can be awash in warm orange tones, or surface interiors may glow in fresh blue hues when arriving in Helsinki," explains designer Vertti Kivi, of dSign Vertti Kivi & Co.
Long-haul flights began in November with routes to Shanghai, with Beijing, Bangkok, Hong Kong and Singapore next.