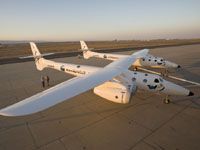 Commercial Space Travel:
Both California's Governor Schwarzenegger and New Mexico's Governor Richardson were on hand to christen the commercial passenger spaceship, the VSS Enterprise, at its unveiling at the Mojave Air and Spaceport. Virgin Galactic, a sister company to Sir Richard Branson's Virgin Atlantic Airways, is the developer of the Virgin Space Ship Enterprise, which is a commercial spacecraft that seats six passenger astronauts plus two pilots.
Mr. Burt Rutan is the designer of the VSS Enterprise, which is also known as the SpaceshipTwo (SS2). Rutan is the founder of Scaled Composites. His company built the SS1, the first commercial passenger spaceship. Its maiden flight in 2004 resulted in Rutan winning the $10 million Ansari X Prize.
Virgin Galactic will build six of these spacecrafts and anticipates offering flights in 2010 or 2011. Reservations are being taken now to book passage for a 150-minute flight that will include observing Earth from 60 miles away and experiencing five minutes of weightlessness. The cost of a seat on this luxury spacecraft, also known as the SpaceshipTwo (SS2), is $200,000.





The commercial space flights will actually involve two spaceships: a transporter (SS2) and a carrier ship. The SS2 will be attached to its carrier vessel when it takes off. The carrier ship will transport the SS2 to a point around 50 miles upward or wayward from Earth before detaching. The SS2 will then fly to a point more than 60 miles away from Earth. The carrier ship is named Eve. It is named after Sir Richard's mother.

Commenting on the unveiling, Branson said, "This is truly a momentous day. The team has created not only a world first but also a work of art. The unveil of SS2 takes the Virgin Galactic vision to the next level and continues to provide tangible evidence that this ambitious project is not only moving rapidly, but also making tremendous progress towards our goal of safe commercial operation."

For more information, visit VirginGalactic.com.

For JustLuxe James Rothaar

SS2

SS2

Governors Bill Richardson and Arnold Schwarzenegger name SS2, VSS Enterprise

SS2 Arrives

SS2 Roll Out Event

SS2 Out of Hanger

SS2 Unveil

Burt Rutan with model of SS2

Burt Rutan in SS2

VMS Eve Maiden Flight

SS2 Cabin