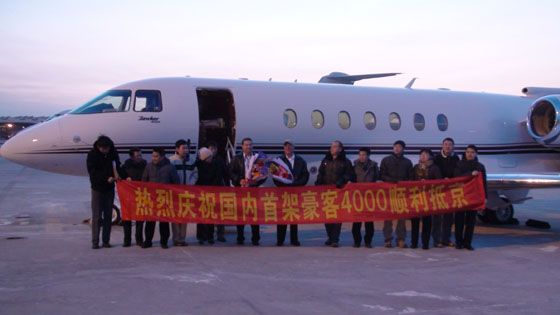 Luxury Aircraft:
Aircraft maker Hawker Beechcraft recently announced delivery of its first Hawker 4000 business jet in China. The luxury private jet ranks among the world's most advanced in its class. It seats eight and receives head of the class consideration for in-flight luxury. The aircraft was displayed earlier this month at the Singapore Airshow.
The Hawker 4000's maximum cruise speed is Mach 0.84, which is more than 639 miles per hour. The plane puts up best-in-class performance in its category with a take-off file length less than 5,100 feet and a sea level to 37,000 feet in less than 15 minutes. Mercy!
It is capable of flying non-stop from Shanghai to Singapore, Beijing to Bangkok and Hong Kong to Tokyo. The business jet is being used for business and leisure travel and is based at the Beijing Capital International Airport.

Plane thoughts: The India Aviation 2010 in Hyderabad will show the Hawker 4000, the Beechcraft King Air B200GT, and the Hawker 750. Show runs March 3-7.