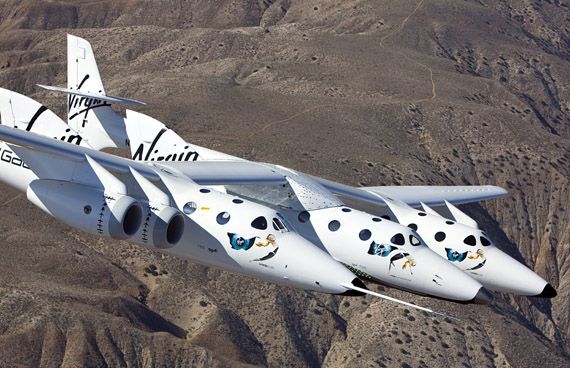 Luxury Aircraft:
Captain's log: March 22, 2010. The much anticipated first flight of the VSS Enterprise is history. The nearly three-hour flight lifted off from the Mojave Air and Spaceport in Mojave, Calif., at 7:05 a.m. Pacific time. The Enterprise remained attached to its carrier aircraft, the VMS Eve, throughout the duration of the mission. The first "captive carry" flight reached an altitude of 45,000 feet.
Mojave-based Scaled Composites are the rocket scientists developing both of Sir Richard Branson's spacecrafts. The VSS Enterprise is a six-seat spacecraft that will offer suborbital space flights to the general public in the not too distance future. The captive-carry flight is the first of three-step countdown to the launching of commercial space travel. An independent glide and a powered flight also must be logged before the VSS Enterprise is cleared for takeoff. Mr. Burt Rutan is the founder of Scaled Composites, which received the $10-million Ansari X prize for developing the world's first privately developed manned spacecraft, the SpaceShipOne.
Virgin Galactic reported that around 330 individuals have laid their money down to experience a suborbital flight that will include an out-of-seat zero gravity experience along the way. Virgin also stated it has collected $45 million from those aspiring space travelers eager to board the VSS Enterprise.
That divides out to about $136,364 per ticket to experience a once unfathomable journey. For this one, I would pull out my credit card and be thinking "priceless" all the way.
www.virgingalactic.com
Photos by Mark Greenberg