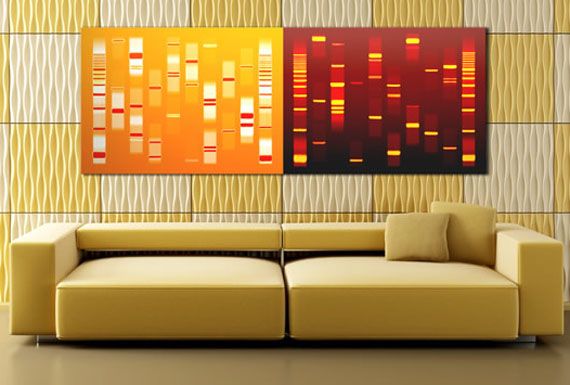 DNA Art US is a
21st century
concept that has just gotten even more advanced. New developments in production process have allowed the company to expand their new age art offerings.
DNA Art US launched in 2010 and are collaborating with DNA Art UK Ltd. who have been in this business since 2007. Allowing for a very personalized portrait for modern art collectors, the company has become increasingly tech-savvy and able to offer more options than just colors. Now art collectors can also choose whether they want their personal helix to be printed on acrylic, metal or canvas, as well as decide how the DNA is displayed.

DNA Art makes picking your art simple; just send a swab to the lab and make a few clicks on their easy-to-navigate site. You can order one as a gift or as a personal keepsake. Prices range from around $500 to $2,000 based on size.

If all this focus on personal art seems selfish, then think again. DNA Art isn't just for individuals. Family portraits and other groups also make frequent requests. They even receive orders for people's pets.

President of DNA Art US LLC, Ric Harrison, says, "We provide our customers with the highest quality products available in the market. We have a multi point quality control process that ensures every authentic artwork delivered to the customer is perfect and worthy of being called a masterpiece. We provide the best and never compromise our standards or those of our discerning customers-so much so that we offer a 100 percent satisfaction guarantee."

Visit www.dna-art-us.com to learn more.