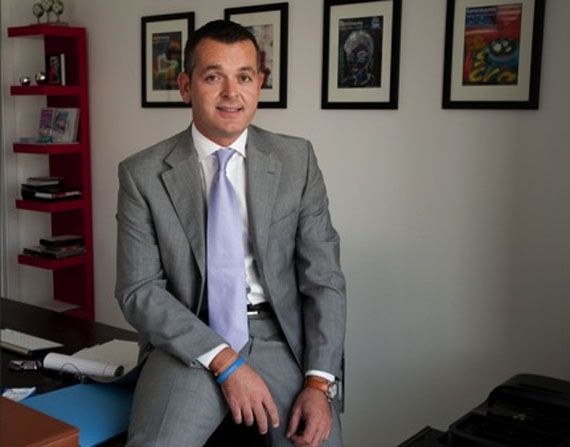 Photo Courtesy of Eurocinema
Hollywood step aside, here comes Sebastien Perioche down the red carpet. As founder, Chairman and CEO of Eurocinema, based in Florida, Perioche brings international award winning films to over 36 million homes in North America through the On Demand channel.


When I spoke with Perioche recently, I was not sure whether to put my focus on the cosmopolitan film industry, or on him as an international man of intrigue. I decided to cover all grounds and leave no stone unturned, naturally introducing Perioche as quite possibly, "the most interesting man in the world." Now I know the origin of this popular phrase I keep hearing lately.
After graduating from Harvard graduate school, Perioche identified two deficiencies here in the U.S. that presented an enormous opportunity. The first was to satisfy the desire of an audience hungry for quality foreign film and its accessibility. The second being the need for the foreign film market to showcase their awarding winning films that tend to be overlooked and discredited in America.
"In Hollywood a movie is run by the studio, but in Europe they have lower budgets. The director is the one in charge," Perioche explains. "The actors and directors have to be more creative and passionate."
Hollywood certainly knows how to make movies a mega hit world wide on a mega budget, but does this really make them better, I ask Perioche? "Foreign films are closer to the reality of life. Films are more creative and artistic. One thing Hollywood knows how to do is promote their films. The Europeans can definitely learn from that."

And we can learn from Frenchman Mr. Perioche as well. "To be successful with anything you do, you really have to believe in it. That was the case with Eurocinema." Launched in 2005, Eurocinema is set apart as "the only channel for European box office hits never before shown in the U.S. We have a very unique selection of films that you can find all together under one brand and one channel."

Distinguished movies from countries such as Italy, Sweden, Denmark, Norway, and of course France, Perioche says; "in a way, people travel to Europe when they watch a European film." Next step for Eurocinema is international expansion beyond this continent.


On a personal note, Perioche, born in Grenoble, France, enjoys traveling to the south of France from St. Tropez to Cannes, then to Monaco. He is a big fan of Formula One racing and Porches, strongly stating "they are fascinating cars. There are no substitutes!" Currently, there are no substitutes for Eurocinema, as this man of intrigue races down the path of success triumphantly. I bid you adieux as you conquer another continent Mr. Perioche.
Presently, Eurocinema is running its first annual On Demand Film Festival. This Scandinavian Film Festival will run through the end of October, available on local cable or satellite provider's On Demand menu. For more on Eurocinema and movie previews, go to
Eurocinema.com
.
 

{start-jlvideo}683{end-jlvideo}