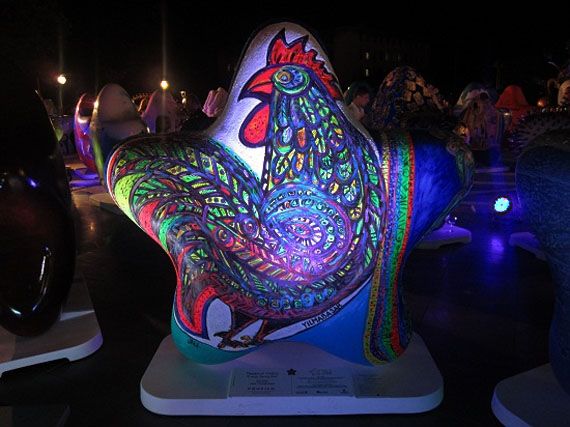 'Stars of Istanbul' is the biggest multi-purpose outdoor arts event to be held in Istanbul for the benefit of UNICEF Turkey. The three-dimensional graphic- and artistic- renderings, inspired by the culture and the history of the city dating back thousands of years, will be displayed on top of giant star-shaped sculptures throughout this autumn. Bringing together the international business world and creative industry, the project draws attention to the 'Brighter Future for Children' movement.
Stars of Istanbul indeed sets a good example of how art can be a part of our everyday street life in a way that is exciting and entertaining. Adorning Istanbul's most fashionable corners with hundreds of stars, the project creates the setting whereby the art and artists meet millions of people on the streets— thanks to the contributions from many socially-responsible national and international organizations.
Aziz Sarýyer— a respected member of the global design community— is the name behind the design of the five-sided star sculptures that were used as canvases by the participating artists and businesses. "Throughout the ages the shiny objects high up in the heavens have represented success and fortune for humanity. I have designed the star form for all the children in the world," Sarýyer explained.
"The world is not fair. There is not enough nutrition, water and vaccines. The cute, fairy-like stars shining in the streets will help children access education; the expenses will be met by companies," said Turkish UNICEF Goodwill Ambassador and well-known author Ayse Kulin.
Both Turkish and international companies, artists and individuals have taken part in the exhibition by adopting and decorating these beautiful baby stars.
Some of the brands that have contributed in creating a brighter future for the children include: Atasay Jewelry, Borusan Holding with Mini Cooper, Elle Magazine, Ford, Galatasaray, Hello Magazine, Hurriyet Newspaper, Istanbul Life Magazine, LC Waikiki, Limango, Linens, Maison Francaise Magazine, Opet, Rixos Hotels, Roche, The Sofa Hotel & Residences, Turkcell, Vodafone Turkey and Watsons.
'Stars of Istanbul' is to last three months between now and November 30, 2011. Following the street exhibition, the colorful star statues will be gathered in an exhibition hall. Subsequently, an auction will be held in December by Sotheby's and the income generated will go to meet the demands of needy children for UNICEF Turkey.