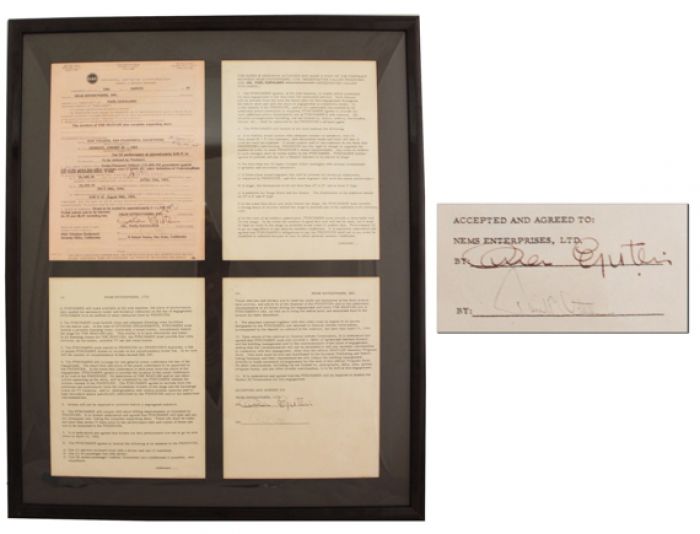 Photo Courtesy of Nate D. Sanders
Many websites feature musician contracts. Often contract riders reveal a musician's specific tastes or diva behaviors, but a 1965 Beatles contract being auctioned off by Santa Monica
auction
house Nate D. Sanders reveals an activist side to a legendary band.
The Beatles requested in the contract that they would not perform in front of a segregated audience at the Cow Palace in Daly City, California. The signed contract by Beatles manager Brian Epstein will be auctioned at Nate D. Sanders' Tuesday September 20, 2011 auction. 
This wasn't the Beatles' first foray into making a stand. In 1963 they initially refused to perform at the Gator Bowl in Jacksonville, Florida because the concert was slated to be segregated and only played after it was allowed that the stadium be integrated. 
The contract between the Beatles' management company Nems Enterprises, Inc. and Bay Area concert promoter Paul Catalana was signed on March 24, 1965 and called for at least 150 uniformed police officers for protection and for "$40,000 guaranteed against 65% of the gross box office receipts over $77,000." The August 31, 1965 concert at the Cow Palace was part of the Beatles' third major United States tour. The contract is estimated to sell between $3,000 and $5,000. Visit
NateDSanders.com
to learn more.