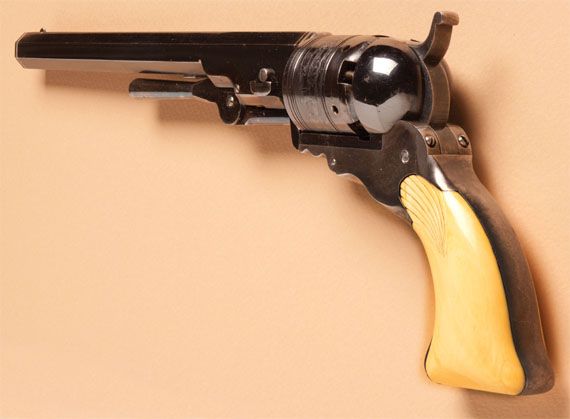 Photo Courtesy of Heritage Auctions
Heritage Auctions announced that a new
world record
for the sale of an American firearm occurred on Sunday, September 18, in Dallas, Texas, at its Dallas Signature Arms & Armor Auction.
An 1836 Colt revolver from the Al Cali Collection sold for $977,500. While specific details on the new owner of the Holster Model No. 5 Patterson Revolver were not revealed, it is known that the buyer is a collector of firearms and a Silicon Valley mogul. 
"There are certain collectibles that transcend genre, period and form and exist simply as great works of art, and clearly this supremely beautiful firearm is such a thing," said Greg Martin, president of Arms & Armor at Heritage Auctions/Greg Martin Auctions. "The nearly seven figure final price realized proves just how great a piece this is, and well worthy of being the world record holder."
More than $3.27 million was realized from the top four lots of the Al Cali Collection. A spokesperson for Heritage advised that the 9-inch barrel revolver, with an attached loading lever, is the finest known surviving example of Paterson, N.J.?s most famous gunsmith, the legendary Samuel Colt. "This is as desirable as any piece that exists, and as desirable as any piece I?ve seen in my more than 40 years of buying and selling the very best firearms in existence," said Mr. Martin.
"Out of maybe 3,000 similar pieces made, with most likely less than 300 surviving, this is clearly among the very best, and the market realized that."
Three additional Colt revolvers fleshed out the top-four selections. A historic-cased, Gustav Young-engraved and ivory-gripped Colt Third Model Dragoon revolver and an inscribed Colt Model 1861 New Model Navy revolver were the second highest guns sold. Each model sold at $805,000. A Colt Walker Model Civilian Series revolver sold for $690,000. For more information, visit
HA.com
.
{start-jlvideo}659{end-jlvideo}