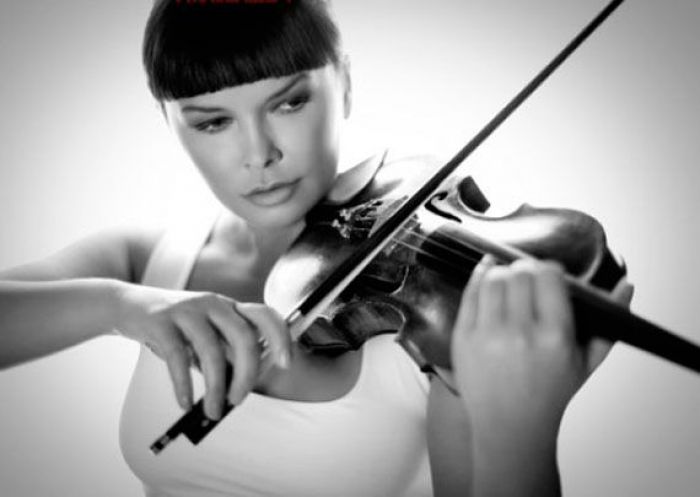 Photo Courtesy of Assia Ahhatt
Exotic Assia Ahhatt of Ukraine is set to make her music debut here in the U.S. next month with much anticipation from her international fans as well as with Assia herself. "I am absolutely delighted that I'll be performing with the true world star Chris Botti," Assia tells me.
"These concerts for me are the first experience of performing in front of American public and I'm excitedly looking forward to it." The violin virtuoso with her striking stage presence is sure to win over a whole new set of fans, as her magnetism won me over in this interview with her.
Born in Kiev, Assia began playing the violin at the age of five. She attended The Music Academy of Nice, France after graduating from The National Conservatory in Kiev. It was during her time with the Academy in Nice that Assia toured with the international string quartet to several countries in Europe. 
"At a certain point, I realized that the conservative academic stage won't suffice for me," Assia explains. "My hope is to give a new stylish life to the academic music, as well as make it more understandable for the listeners." Assia is very successful at accomplishing just this as some of her music combines the strong presence of her classical violin talents mixed in with more of a pop flavor. Her debut album "Homo Novus" of modern instrumentals was released in 1999. With her unique vocal and
musical talents
, and seven pop music albums later, we welcome award-winning Assia to the States.
There is also no way I could skip mentioning here how stunningly beautiful Assia is. This wife and mother of two, with her Cleopatra-like exotic looks and sex appeal do not go unnoticed, only adding to her worldliness. Often dramatic and theatrical, her music videos capture these characteristics and her passion.
"My favorite songs are those about love," says Assia. "Most of my songs and plays have been created by me. My life, unforgettable stories from it, various characters with whom I had such an opportunity to meet, they are all reflected in my songs and my creativity." Assia?s talents and experiences have quickly escalated her career and position in the international music industry where she will be able to grace us with her presence in several upcoming performances.
However, first on her current agenda will be as guest violinist for jazz singer Kurt Elling at his
concert in Kiev
. Next stop, Assia?s first U.S. performance will be October 7, with Grammy award winning trumpet player Chris Botti in Sparks, Nevada at John Ascuaga?s Nugget Hotel & Casino and October 8 in Henderson, Nevada at Green Valley Ranch Resort & Casino.
We can then find Assia at a special engagement in Los Angeles, California October 11 for
French Tuesdays
, an exclusive network of "successful individuals who share a world of couture nightlife and entertainment." How appropriate for a performance by Assia.
You can also catch Assia with Botti once again this year in December at the legendary
Blue Note Jazz Club
in New York City. If you're looking to plan an exotic trip, then mark your April 2012 calendar for Russia and the Ukraine where you can once again see Botti and Assia make magical music together for an experience of a lifetime.
The
Seven Wonders of Ukraine
will need to add an eighth as Assia continues to take the world by storm, evident here in her video. Grab a shot of Samogon, turn it up and enjoy! To see more on Assia, visit
AssiaAhhatt.com
.
{start-jlvideo}660{end-jlvideo}
Assia Ahhatt