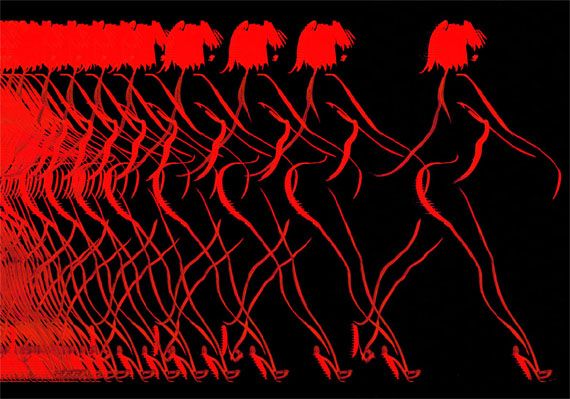 Photo Courtesy of Antoine Kruk
It has officially been sixty crazy years since the original Crazy Horse opened in Paris, France. With decades of delightful dancing dames, this classic cabaret is still sizzling, enticing people far and wide. The Horse continues with the greatest authentic burlesque show on earth.


A piece of the experience is captured by famous fashion designer and artist, Antoine Kruk, in his new book titled Crazy (Editions Eyrolles), where Kruk's illustrations depict an intimate view of the dancers through his experiences with them backstage as costume designer. "Crazy Horse has become a part of Parisian identity, mixing sophistication and of course very sensual performances from the dancers," tells Kruk. Seductively French, huh? Utterly curious about Crazy, I need to know more, so here are the details from our discussion.

"I became a family member of the cabaret," proudly states Kruk of his experience as costume designer for the "Forever Crazy" revue since 2007. "The book is a timeless homage to the Crazy Horse, not about the show but about life essence of the place." Kruk was given rare access back stage for years due to his position, allowing him to inevitably develop this intimate relationship with his new family of dancers. "I had so much fun working with them," admits Kruk. However, not all is as glamorous as we often imagine. "There is pain and hard sacrifices behind the red curtain," reveals Kruk of the performers.


The best way I can describe the nature of the book is to simply quote The Crazy Horse establishment's statement; "Immersed in this feminine sanctuary, fascinated witness to the metamorphosis of these young women into icons of the evening, the artist has drawn inspiration from them for these portraits filled with sensuality and grace."

Through the years, Kruk has had the privilege to design for guest stars of the Horse such as Pamela Anderson and Clotilde Courau, French actress and Princess of Venice and Piedmont. However, Kruk is no stranger to celebrities as his experiences in the fashion industry propelled him to the top with his talents. Fashion houses this Franco-Japanese designer has been a part of include Thierry Mugler, Roberto Cavalli, Valentino, Olivier Theyskens, and Nina Ricci. Impressive, I must say, but I ask more about the Crazy experience!


Kruk explains that there are endless erotic shows in the world, but Crazy Horse is unique because it tastefully combines "nudity and strip-tease with a refined choreography, and incredible lighting, all with an artistic sense," which naturally allows for a more respectable performance. The choreographers of the act, Phillippe Decoufle and Ali Mahdavi are "two great artists who are giving new blood into traditional cabaret." Speaking from experience Kruk states, "I think people who go there for the first time are surprised, and they get more than they expected."

Visually, the book is as sensual as the Crazy Horse reputation! The red velvet cover with silver ink and page edges reflects that sexy image of the symbolic Parisian cabaret. "A boudoir kind of spirit even before you open it," describes Kruk. As you do open the book, the unique preface seduces you with "double pages covered by kisses from the girls," states Kruk with excitement, "I decided that this would be the best introduction!"


Filled with one hundred beautiful watercolors by Kruk, the illustrations are divided into three chapters "following the life of a Crazy Horse girl, before, after and during the show," elaborates Kruk. I also decided to treat my drawings in two different styles, as everybody understands that an artist always has two faces. I wanted to show the girls in their intimacy, with fun, heart, and humanity, revealing a part of their everyday life and occupation."

The book Crazy will be available November 4, 2011. Just in time for a holiday delight! For more on Antoine Kruk visit AntoineKruk.com, to purchase Crazy visit http://www.amazon.ca/CRAZY-ANTOINE-KRUK/dp/2212133626 or www.editions-eyrolles.com.To learn more about Crazy Horse, go to LeCrazyHorseParis.com.

Crazy, isn't it, they are all here for me
A talented dancer to seduce and intrigue
Tempting them with my strip tease
An act performed, aimed to please.

With eyes locked on you, alluring I must be
Now I unleash my sensuality
But all I can think, all I can see
Is myself alone, simply Crazy.

-Slavica Monczka