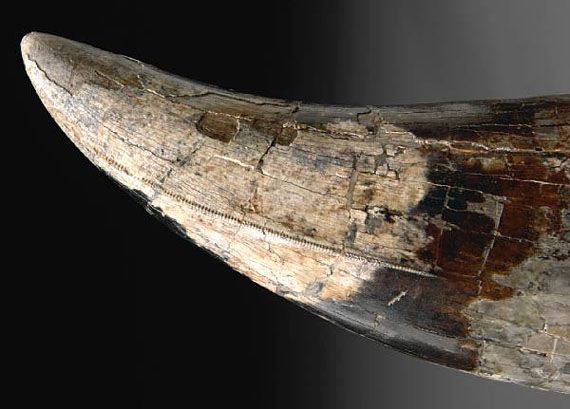 Photo Courtesy of Bonhams
It's not often that an archaeological find goes from discovery to market within a matter of months, but at Bonham's Natural History Auction in
Los Angeles
on December 11, a dinosaur tooth which was just found this summer will be up for sale.
The piece is one of the largest Tyrannosaurus rex teeth ever found, measuring 5 1/8 inches (linear measurement), from base to tip. It was excavated in late summer, 2011, in Garfield County, Montana. Thomas Lindgren, co-consulting director of the Natural History Department at Bonhams, said of the specimen: "The tooth is more massive than any of the teeth of the well-known T. rex
Stan
, and is possibly larger than those of
Sue
, the famous T. rex residing in the Field Museum, Chicago." The tooth is from the upper left portion of the mouth of the dinosaur, the first or second maxillary tooth — the area in the T. rex's mouth with the largest teeth. 
The piece was prepared by the Black Hills Institute. The only restoration needed was crack filling. The epoxy fill is pigmented so that black light shows the exact location of the restoration. This was done to maintain the integrity of this exceptional piece for scientific study while stabilizing the fossil and enhancing its aesthetic qualities, as well as increasing its monetary value.
The piece is estimated to bring $25,000–30,000. Other highlights of the December sale include one of the largest saber-toothed cat skulls ever offered at auction, estimated at $50,000-60,000. A fossil palm flower from the Green River Formation of Wyoming is estimated at $45,000-55,000. Check out the catalog at
Bonhams.com
.
Saber-toothed cat skull
Fossil palm flower