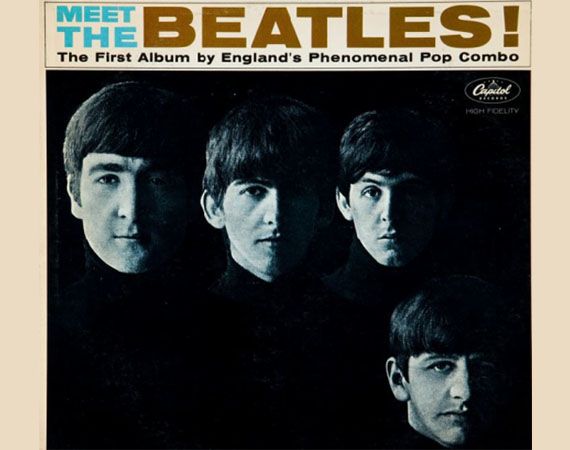 Photo Courtesy of Heritage Auctions
An original copy of the 1964 'Meet
The Beatles
' album cover signed by John, Paul, George, and Ringo will be the headlining lot at the upcoming Music & Entertainment Signature Auction this month in Dallas, Texas. The copy of the Fab Four's first U.S.-release is expected to sell for $75,000.  
Other notable lots of the upcoming auction include six sets of legal documents signed by Marilyn Monroe, a natural-hair wig worn by Elizabeth Taylor in the film Cleopatra, and twice-signed, property-settlement documents by Elvis and Priscilla Presley. Additionally, there is a short-sleeve, pink and black shirt personally owned by Elvis that has a pre-auction estimate of $10,000.
"An original pressing of this classic album is cool enough in-and-of itself, given that it introduced so many millions to the timeless music of The Beatles," said Garry Shrum, consignment director of Music & Entertainment Auctions at Heritage. "Add the autographs of all four members of the band and you have one of the great Beatles collectibles of all time." 
The Beatle's guitarist George Harrison gave the signed album to Dr. Jules Gordon, in February 1964, for treating him. The album has remained in the family ever since and is owned by the doctor's son, Jeffrey Gordon. Additional lots likely to get a lot of attention include handwritten lyrics by Stevie Ray Vaughn to an unpublished song and a three-page, handwritten letter by magician Harry Houdini. The Music & Entertainment Signature Auction by Heritage Auctions occurs in Dallas, Texas, on December 13, 2011. For more information on the upcoming auction, visit
HA.com
.