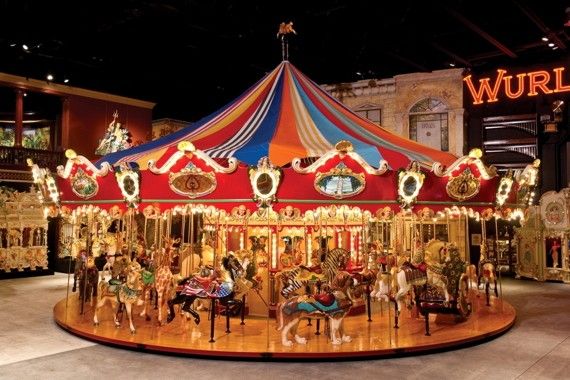 Photo Courtesy of RM Auctions
Many people have childhood memories of rides on the carousel, but only one lucky and deep-pocketed bidder will take home a truly spectacular hand-built, 46-foot custom carousel at the auction of the Milhous Collection February 24-25 in
Boca Raton, Florida
.
The auction by
RM Auctions
is being held in association with Sotheby?s and presents an unprecedented selection of mechanical musical instruments, automobiles and collectibles. The collection is the result of over five decades of worldwide gathering by brothers Bob and Paul Milhous, owners of the Milhous Museum. The museum doors will open one final time as items goes up for sale. 
While the automotive highlights ? including a rare 1912 Oldsmobile Limited Tourabout estimated to earn over $1.4 million ? have garnered a lot of press, the musical highlights include over 100 of the world?s most desirable fair, theater and dance organs and the largest compilation of major orchestrion pieces ever offered at auction.
The auction features an original Wurlitzer Family Residential/Theater Pipe Organ, a 30-rank theater organ formerly in the Wurlitzer home in Cincinnati, Ohio (Est. $450,000 - $650,000). Other highlights include: an Art Deco styled Mortier Dance Organ (Est. $175,000 - $275,000); an ornate Ruth Style 38-B Fair Organ, one of the largest examples manufactured by the respected firm A. Ruth & Söhne (Est. $1,000,000 - $1,200,000,); and, a beautifully presented Gaudin 125-Key Dance Organ, finished with gold leaf and delicate oil paintings (Est. $1,000,000 - $1,200,000). All have been restored to the highest level. A Welte Wotan Brass Band Orchestrion, the largest model of the Welte line, originally from the Bob-Lo Island Dance Hall in Detroit, Michigan is estimated at $1,500,000 - $2,500,000).
The carousel was built to be the centerpiece of the Milhous museum and features 42 animals, all hand-carved in basswood which move to the music of a Wurlitzer 153 Band Organ. Estimated at $1,000,000 - $1,500,000, it is a fully functioning work of art. Full event details, select video highlights and a complete list of auction offerings are available online at
RMAuctions.com
.
{start-jlvideo}572{end-jlvideo}
RM Auctions
Paul and Bob with Welte Wotan Orchestrion