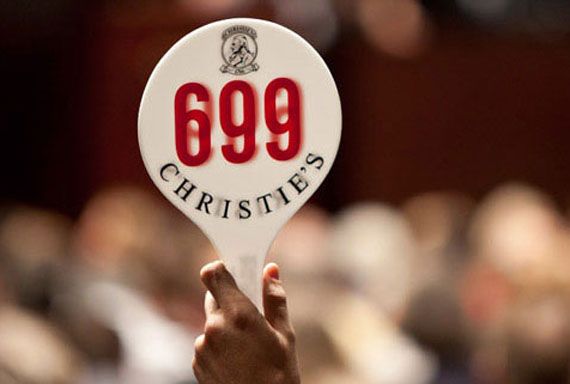 Photo Courtesy of Christie's
World-renowned
auction house
Christie's announced total sales in 2011 of $5.7 billion. Sales are up 14 percent over 2010. While the auctioneer reported growth for all art categories, the Post-War and Contemporary, at $1.2 billion in sales, was the top category. Asian Art was the second highest group at $890.1 million. Private sales also posted $808.6 million for the year ending, showing a 50-percent increase over the previous year.
"Christie's ability to curate and offer sales of art to a growing audience has led to continued demand across geographies, collecting categories and at all levels. This is a very encouraging set of results," said Steven P. Murphy, CEO at Christie's. "While we are seeing more investors collecting, there are many more collectors who are increasing their investment in their collections as the explosion of interest in art, fueled by globalization, facilitated by the technology that increases access to information and images, meets the art that is coming to the market."
The usage of the Internet by bidders also plays a significant role, as 29 percent of all bidders transacted online in 2011. Unique visitors to the company's website, Christies.com, increased 77 percent over 2010 figures.
Christie's LIVE, an interactive bidding platform, had 25 percent more bids and sold two paintings for more than $1 million. Part of the Collection of Elizabeth Taylor was sold online only for a two-week period that segued into the live auctions at Christie's New York. The online exclusive was the inaugural run for such platform by the auction house. For more information, visit
Christies.com
.