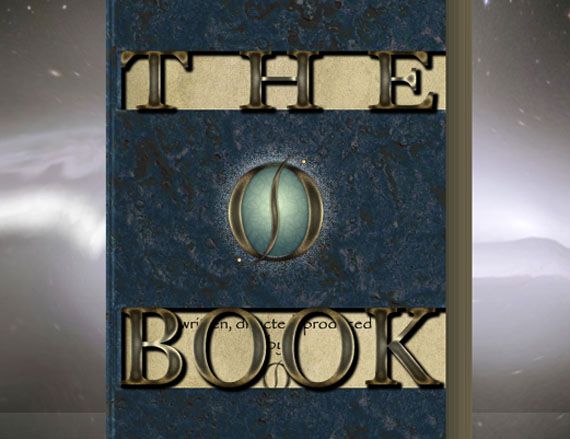 Photo Courtesy of The Book
Filmmaker
Richard Weiss (also known as ?) has just released his first feature film,
The Book
, a sci-fi fantasy with a message to share. While sci-fi films have become dark and disturbing images of a world without hope or a future, Richard Weiss has crafted a more optimistic outlook, with plenty of influence from directors such as Kubrick, Fellini, Hitchcock, Polanski, Chaplin and Leni Riefenstahl.
Weiss describes
The Book
as, "
Buck Rogers
meets
Invasion Of The Body Snatchers
meets
The Secret
. It?s a suspenseful sci-fi/fantasy thriller, with kitsch and camp stylistic visuals and an existentialist message. But it?s, first of all, a visual trip, a colorful and weird kaleidoscopic view of an optimistic future. It explores parallel universes, telepathy, time traveling, subliminal manipulation and free will, in an entertaining way."
The creative and unusual film is the result of Weiss' subconscious reacting to finding another person who shared his name in a phone book (the book that the film takes its name from). His travails with the phone book then led him to create
The Book
, a film that has won accolades and awards at festivals and that some critics have called a "cult classic." ? (pronounced O, like the alphabet letter), is credited with making the movie. Weiss explains, "The symbol ? pays homage to that mysterious force that sustained production from start to finish."
Before
The Book
, Weiss, a graphic artist, directed a music video that garnered attention both at home in the states, as well as abroad. Based on that success he gradually moved into composing music for films until he got the idea to write and direct
The Book
. Unlike many first time filmmakers, Weiss found the transition to feature length films easy and has plans in the future for more releases, including family-friendly
Pandemonium
(a follow-up to
The Book
) and
Mayhem
, which is a completely different story.
Until distribution it will only be available for purchase on
TheBook-TheMovie.com
. Right now, and for a limited time, a personalized autographed limited edition DVD of
The Book
can be purchased by email request at
TheBook3@gmail.com
.