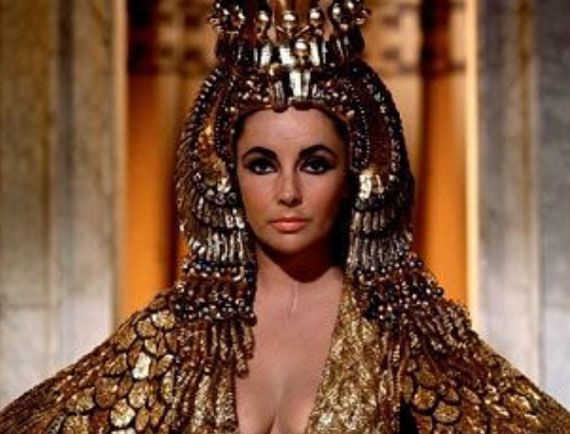 Photo Courtesy of Heritage Auctions
Two of the world's largest pop culture stars will go to the auction block at Heritage Auction's upcoming Entertainment & Music Memorabilia. A 45-single pressing featuring The Beatles and a costume worn by
Elizabeth Taylor
are the lots expected to sell at the highest prices. 
A rare U.S. 45-single pressing by The Beatles,
My Bonnie/The Saints
, has a pre-auction estimate sales price of more than $30,000. The Beatles actually appear on the single-sided disc, not as The Beatles but as the Beat Brothers, the backup band for singer Tony Sheridan. The gold cape worn by actress Elizabeth Taylor, as Cleopatra, in two scenes from that eponymously titled 1963 film classic, is expected to fetch $20,000.
"These are just a few of the highlights and legendary names we have lined up in this auction," said Margaret Barrett, director of entertainment and music auctions of
Heritage Auctions
. "We have rare and desirable memorabilia relating to a host of the key figures in late 20th century Pop Culture. Collectors of all levels will find something to be excited about."
Other pre-auction favorites of the upcoming event include an oil painting started but never completed by a young Buddy Holly. The painting is a pair of cowboy boots and a hat. The piece is expected to sell at a minimum of $12,000. Another Buddy Holly collectible in the lots is a 45-single pressing by Coral that is signed by Holly, Ritchie Valens, and Dion on February 2, 1959, which is the same night they died together in an airplane crash. The item is expected to sell for more than $8,000. There also is a John Lennon-autographed Imagine poster with has a pre-auction estimated sales price of more than $10,000.
Additional celebrities with lots on the block expected to sell well at this event include a model-release form signed by Marilyn Monroe in 1946. It is expected to go for at more than $9,000. A bib-shirt worn by John Wayne in the film
The Man Who Shot Liberty Valance
has a pre-auction sales estimate of $9,000. A twice-signed U.S. passport by the recently deceased singer Whitney Houston, 1979-1986, signed when she was 16 years old, is thought to sell for more than $2,000.
"Sadly, Whitney now belongs to music history, as does anything associated with her," said Ms. Barrett. "Her passport should be an interesting lot to watch in this auction." The Entertainment & Music Memorabilia Signature Auction by Heritage Auctions will take place in Dallas Texas, on March 30, 2012. For more details, visit
HA.com
.