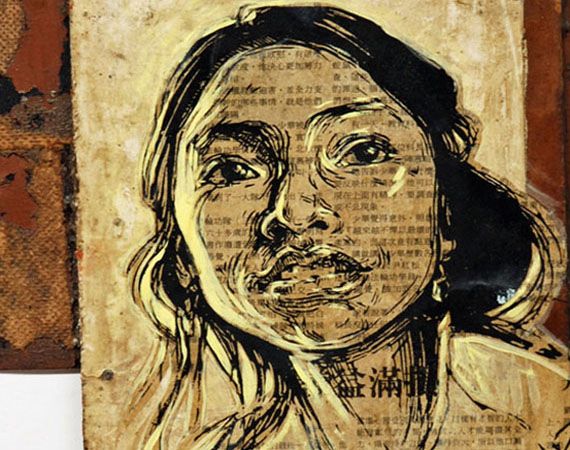 Photo Courtesy of Black Rat Projects
Brooklyn-based street
artist
, Swoon, creates dramatic woodcuts that are amazing in size and scope. Usually, Swoon depicts family and friends in cityscapes around the world, including abandoned buildings, bridges, fire escapes, water towers and street signs. Swoon often creates her works of art out of discarded and repurposed objects that she then installs in uninhabited locations.
Conversely, when doing a
gallery
installation, Swoon uses discarded materials to create imaginary cityscapes out of blocks and woods and other objects. Whether in the gallery or on the street, Swoon transforms spaces into paper and wood, sprawling with realistic cut-out street people doing everyday things like chatting, riding bicycles or going shopping. Inspired by German expressionist wood block prints and Indonesian shadow puppet techniques, Swoon's art is an exploration of urban experiences that can happen in any city around the world.
Swoon has had numerous projects in connection with other artists and in various cities. One project, "Swimming Cities of Switchback Sea," involved seven boats designed and built by Swoon and her crew from discarded materials found in New York dumpsters. The boats then sailed down the Hudson River for three weeks, making stops for performances along the way.
Previous Swoon collaborators include Brooklyn-based art collectives, Glowlab, Black Label, Change Agent, the Madagascar Institute and the Barnstormers. Swoon is also part of permanent installations at
museums
including the MOMA, the Brooklyn Museum and the Tate.
More about the artist can by visiting
BlackRatProjects.com
.