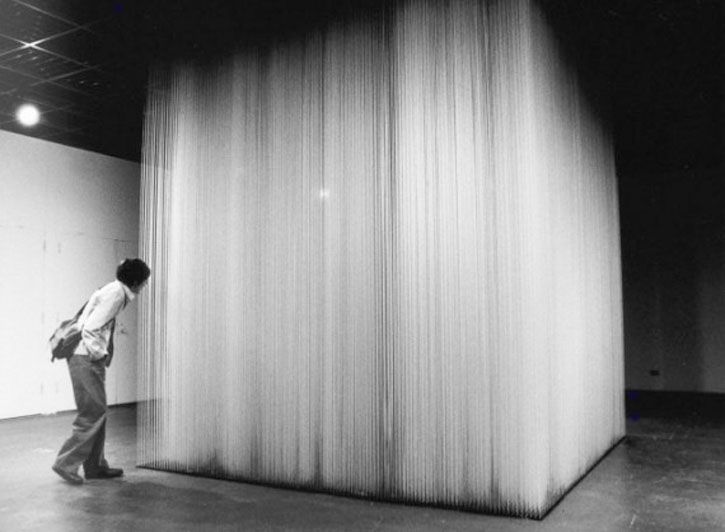 Photo Courtesy of Hada Contemporary
Art galleries
can be an isolating experience, with individuals wandering through to look at pieces without really connecting to them or their fellow gallery-goers. Hong Sung Chul's art endeavors to change that, by showcasing human connection both in his art and in how it is presented.
Born in 1969 in South Korea, Hong Song Chul is focused on the string that connects the human experience, beginning with the umbilical cord. In his new pieces, Chul uses elastic cords printed with images to create what can best be described as 3D sculptures. Each piece of elastic becomes whole when it placed with other elastic strands, forming an overall image of human connection.
String Mirrors
depicts close-ups of the human body photographed on strands of elastic. Individually, each strand is meaningless, but placed together they form a whole picture, even if they don't actually touch. The strings are staggered but ultimately form and image of the human experience as either being alone or being supported by others—as in the single body part or intertwined hands images.
Hada Contemporary describes Sungchul's construction as "a visual representation of what ties humans together from the earliest stage of life — the umbilical chord." The images encourage a sense of community, a key element of Korean culture.
Hong Sung Chul completed an M.F.A and B.F.A in sculpture at Hongik University in Seoul before finishing another M.F.A in Integrated Media at California Institute of the Arts. He has shown in galleries in both Seoul and Los Angeles.
To learn more visit
HadaContemporary.com
.