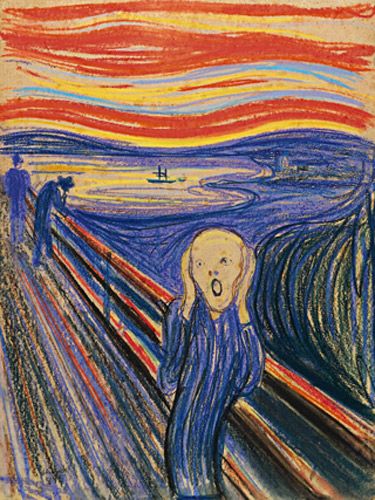 Photo Courtesy of Sotheby's
It is likely that the sale of one of the versions of Edvard Munch's
The Scream
at $119,922,500 at Sotheby's Impressionist & Modern
Art auction
last night prompted more than a few shouts from members of the art community. The sales price sets a new record for a work of art to be sold at auction. 
Gross sales of $330,568,500 for the auction slightly exceeded the expectations of the auction house's estimate of $323 million. Artist Pablo Picasso's Nude, Green Leaves and Bust, which sold for $106.5 million at a Sotheby's auction two years ago, previously held the record.
Edvard Munch created four versions of
The Scream
. This pastel-on-board rendering of the iconic art is from 1895. The other three works of art are on display in museums in Norway. 
The New York Times
revealed that Norwegian businessman and shipping heir Petter Olsen as the seller of
The Scream
. Mr. Olsen's father was a friend and a patron of the artist. The identity of the new owner was not given.
"If ever there was a work of art of true shock and awe, it is Edvard Munch's
The Scream
, which is not only one of the seminal images from art history, but also one of the visual keys to the modern consciousness," said Simon Shaw, senior VP and head of Sotheby's Impressionist & Modern Art department. 
Mr. Shaw went on to say that at least eight bidders battled for more than 12 minutes. The total sales of more than $330 million marked Sotheby's highest ever total for an evening sale of Impressionist and Modern Art. The previous record of $286.2 million was set in 1990 in New York. For more information about the auction, visit
Sothebys.com
.