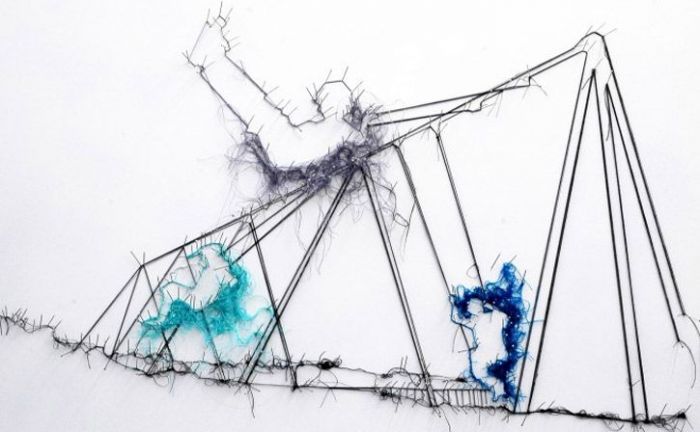 Photo Courtesy of Debbie Smyth
British-based
artist
, Debbie Smyth, doesn't create her amazing installation pieces using, canvas, paint, paper, or any of the typical materials you think when you hear the word "drawing," or "art." Instead, Smyth, an accomplished crafter of textiles, recreates scenes and objects from the world around us using thread. Her incredible pieces have been featured on the front cover of the
New York Times
and have been commissioned by the likes of Sony, Red Cross Canada, Mr. Jones Watches and many others.
When speaking about her process Smyth says, "On first glance, it can look like a mass of threads but as you get closer sharp lines come into focus, creating a spectacular image… The drawings are firstly plotted to give me the bare bones of the image. I then gradually exaggerate and add more thread and knots, just like you would add shading with a pencil. Thread, such a pliable and soft material with great line quality."
Smyth's first solo show, "Threadbare," featured a large scale work that was inspired by the Manchester Northern Quarter's urban aesthetic. The piece measures 26 feet wide and 8 feet high, capturing an astonishing quality of depth and movement as rough, willowy-edged travelers walk against outlined cityscapes. It remained on display in the Manchester Craft and Design Centre for five days.
"Jubilee Bridge," measuring 16 feet wide and 8 feet long, was a work commissioned to be part of the
Material Evidence
art exhibit
at The Brindley in Runcorn, England. Smyth assembled the work on three separate panels that were later joined, merging an impressively arched bridge with a quiet row of residential homes.
Her most recent installation was crafted for the Stroud International Textile Festival exhibition,
WorldPlay
, which began on April 30th and will run until the 22nd of May. Here, text and visual images merged to create multi-sensory, multi-dimensional works that "challenge the viewer to seek fresh ways to see their world."
Smyth also has an extensive portfolio of work that features both simple linear design, as well as shaded and mixed media work. She is constantly experimenting within her craft, testing boundaries and capturing the seemingly mundane to create beautiful pieces of design work.
To see Smyth's full range of work visit
Debbie-Smyth.com
.