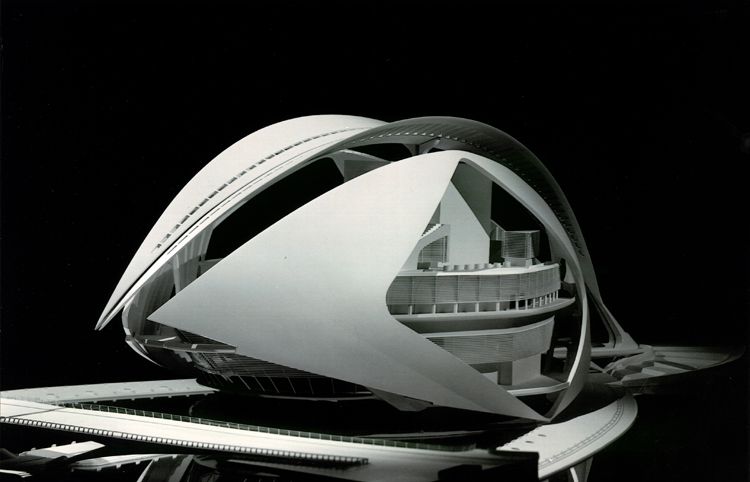 Images Courtesy of Santiago Calatrava, LLC.
If you plan on being in Russia any time soon, you should definitely check out the iconic State Hermitage Museum in St. Petersburg. If the beautiful museum itself isn't enough of a draw, maybe its first exhibit to honor a contemporary artist is. Born in Spain, Santiago Calatrava is considered by many to be one of the world's elite designers with titles that include architect, sculptor, and structural engineer. From June 27, 2012 to September 30, 2012, Calatrava will have his very own show at the famous Hermitage Museum, entitled
"Santiago Calatrava: The Quest for Movement"
.
With his principle office in Z√ľrich, and more offices in Paris, Valencia, and New York City, Calatrava's exhibit will be the beginning of the museum's
Hermitage 20/21
project, which will be the collection, study, and exhibition of 20th and 21st century art. Curated by Cristina Carilla de Albornoz and Ksenia Malich,
The Quest for Movement
will be one of Calatrava's biggest and most extensive exhibits and will study his original style throughout his various artistic ventures. Spanning his career of over 30 years, the show displays paintings that have never been seen before, sculptures, and his most celebrated architectural models and sketches.
Much of his work reflects a keen interest in movement, as is implied by the show's title. Calatrava uses architecture to highlight the inherent potential for movement, fusing rigidity with fluidity in unique and unexpected ways. His daring designs have garnered him a lot of recognition amongst respected publications, such as
Time Magazine
, which named his Brise Soleil (a moveable, wing-like sunscreen that resembles a manta ray) at the Milwaukee Art Museum the "Best Design of 2001." Currently he is working on design and construction projects all over the world, including the World Trade Center Transportation Hub in New York and the Margaret McDermott Bridge in Dallas.
The show will be set up in the Nikolaevsky Halls, considered to be some of the museum's more beautiful rooms, to better highlight the artist's impressive versatility as an artist. "The Hermitage is one of the world's most important museums, so it is an enormous honor that they have chosen my work as the subject for their first exhibition on contemporary architecture," says Calatrava. "I have a true admiration for not only the collections in the Hermitage, but for the country of Russia itself. Throughout history, Russia has made an enormous contribution to the arts and it is a privilege to be able to exhibit the different aspects of my work and the interrelations between them in the beautiful city of St. Petersburg."
For more information visit
HermitageMuseum.org