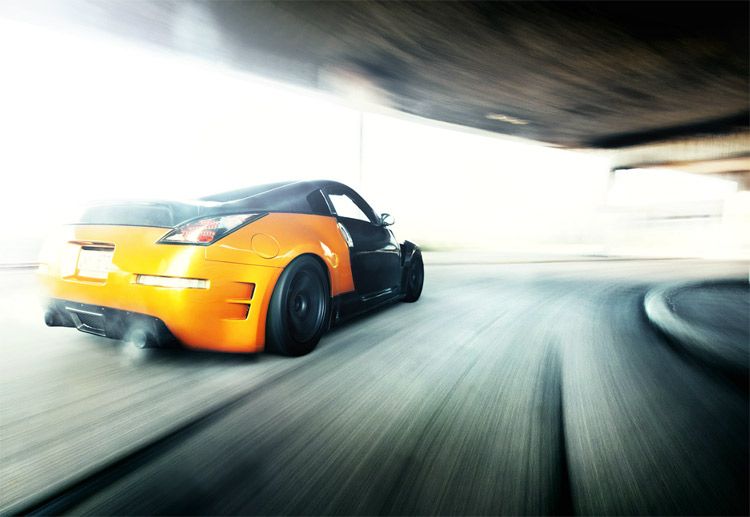 Photo Courtesy of Dejan Sokolovski
Based out of Gothenburg, Sweden, photographer Dejan Sokolovski has gained attention for his impressive sports car photography. With a stylistically artful scope, Dejan captures a variety of
luxury cars
speeding through urban streets and cutting through desolate wastelands. Using landscape, Dejan manipulates diverse terrain to highlight the stunning profile of the vehicles while also creating an image that has an added depth of visual interest. Take a look below to read our exclusive interview with the photographer and learn the details behind his process.
JustLuxe: Though you photograph a range of subjects, you car photography in particular has gained a lot of attention. What inspired you to begin photographing sports cars? Are they your favorite subject matter?
Dejan Sokolovski
: That's true, I mostly am recognized by my car photography. I've since forever been a huge car enthusiast so start shooting cars kind of just came naturally to me. Others may perhaps start with models or nature, I from the very beginning started out with car photography. I have, however, lately started shooting more and more models as well, especially retouching model shots for other photographers. Having a niche is good and probably will give you most attention to make that category better and better, for me it's cars!
JL: What sparked your earliest interest in photography?
DS:
I seriously think about that myself, and I have no clue. I've never been interested in photography till I was at least 17-18 years old when I out of nowhere decided to buy a camera and start learning it. I have however always been interested in graphic design and have been using Photoshop since forever. Maybe that was some kind of call to also do photography. So now my graphic interest has been laid on ice.
JL: Capturing the right amount/type of light is essential for good photography; could you give us some insight to your strobist techniques and equipment?
DS:
For car photography it's mostly a puzzle, at least for me. I'm almost always using just one flash but a powerful one, and flash every detail on the car from different angles, have the camera on a tripod and later in post production stitch all them together to get a satisfying light of the whole car. Today I use Elinchrom and Profoto at times. Some years back I was rocking the cheapest speedlites there was, Vivitar 285HV, bought from U.S! But hey, really any kind of light is good, just need to learn mastering it well.
JL: What camera did you first begin photographing with? What type of camera, lens, and equipment do you use now?
DS:
Back in 2006 I think, or late 2006 at least was when I bought my first DSLR, it was a Nikon D50. I bought the Sigma 10-20 wide-angle lens to it, Nikkor 50mm 1.8 and was rocking those two for forever, still have them! Later I upgraded to the Nikon D80, and then Nikon D90 which I have been using until just a week ago. So almost every shot in my portfolio is done with the Nikon D90 and the Sigma 10-20 actually.
DS:
I now finally ended up buying some really pro equipment which I still haven't tried out but looking much forward to soon. It's a Nikon D800E body where I so far have the Nikkor 16-35 lens for wide-angle, Nikkor 50mm 1.8 (same as before), Nikkor 70-200 2.8 VR II and I might also buy the Nikkor 24-70 soon. Then I should be all set with amazing equipment! Hoping this new equipment will boost my work a lot more with fine details and all than it was with my Nikon D90.
JL: How important is the processing procedure to the finished look and feel of your work? Did you learn this by experimenting on your own or were you taught a specific method?
DS:
For me post-production is everything. Without it my work would be nowhere… It sets my whole style and refines the image so much more than it is as a original. I haven't gone to any courses or learnt from someone, it's all experimenting and doing what my eye likes. With having used Photoshop in the past for graphic designs, etc. I at least had a base to start out from.
JL: What type of software do you use for post-processing, and on average how long does the entire procedure take?
DS:
I almost entirely use Adobe Photoshop CS6 for all my images. Also Adobe Lightroom 4 when converting raw files and setting the raw settings on a larger batch of images, sorting the images and all that. Hard to say an average, it really depends on image to image. I could sometimes work on a image for hours, maybe 10 hours while another image could take 1 hour only. Depends on what has to be done and cleaned up, if it is colors only for the first image of the set it takes some time, and then it flows on pretty good.
JL: You are based in Sweden. Does the landscape or artistic culture of the country influence your work at all?
DS:
Oh how much I dislike Sweden's landscape and locations for shoots. But I try making the best out of it, and when possibility takes place I travel around the world to do shoots instead. I love mountains, big vibrant cities and nice architecture. Maybe I'm home-blind, but to me, really there isn't a lot interesting here!
In addition to sports car photography, Dejan also captures models and landscape. To see Dejan's full portfolio visit
DejanSokolovski.com
"For me post-production is everything. Without it my work would be nowhere… It sets my whole style and refines the image so much more than it is as a original."
Check out our favorite photographers for the new year:
Visually Stunning Images by Our Favorite Photographers for the New Year