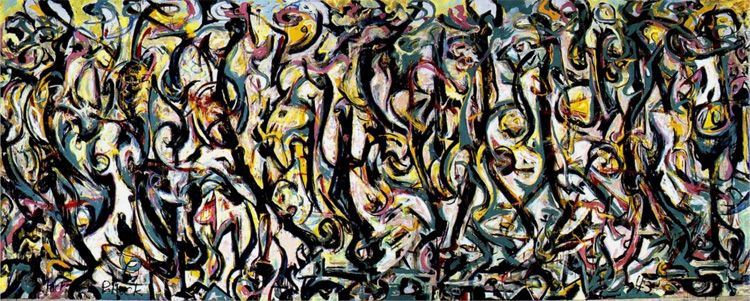 Photo Courtesy of the Getty Museum
It's amazing what can be done to preserve priceless works of art, with the process sometimes taking years to complete. Most recently Jackson Pollock's incredibly important painting "Mural" has arrived at the
J. Paul Getty Museum
to be brought back to display condition. Pollock was (and still is) one of the most influential and important American artists, and restoring "Mural" is a major job for the Getty's conservation lab.
"Mural" is a shining example of how Pollock (1912-1956) transcended the traditional style of painting on an upright canvas by stretching it out on the floor and implementing his unique drip style. The piece was originally commissioned by art collector Peggy Guggenheim and is an impressive eight feet tall by twenty feet long, marking the very first large-scale painting to utilize Pollock's new drip method. With its trademark chaotic shapes and colors, the painting is widely considered to be an inspiration for many mid-20th century Abstract Expressionists and marks a turning point in Pollock's infamous career. It's "a stampede...[of] every animal in the American West, cows and horses and antelopes and buffaloes. Everything is charging across that goddamn surface," said Pollock of the painting.
According to the Getty, "Mural" has embarked on a two-year long study and conservation treatment, in collaboration with the University of Iowa Museum of Art (which was gifted with the painting in 1951 by Guggenheim). Studying the materials used and painting techniques will help them to figure out the best way to treat the many problems. Analyzing "Mural," from the type of paint to the method of its application, could give the museum some new insight into how Pollock worked. Due to paint drying different depending on whether it's overlapping wet or dry paint, the Getty may even find out whether or not Pollock actually painting it in a day (which is a legend that's been floating around "Mural" for years).
The painting apparently has a very obvious sag in the top middle, the weight of the canvas pulling down and placing stress at the edges, according to LA Times. It's thought that the sagging may have started when a new lining was added to help reinforce the canvas. Since the procedure commonly uses a wax adhesive, it just resulted in bringing added weight to the painting.
"All paintings require some conservation treatment over time, and Mural is no exception. Visually, its surface looks dull, so it will need to be cleaned. And although though the lining is structurally sound, some structural work also will be needed. At the very minimum, a new stretcher will be required to provide more adequate support for the painting, which is very heavy," says Yvonne Szafran, head of conservation at the Getty.
For more information visit
Getty.edu
.