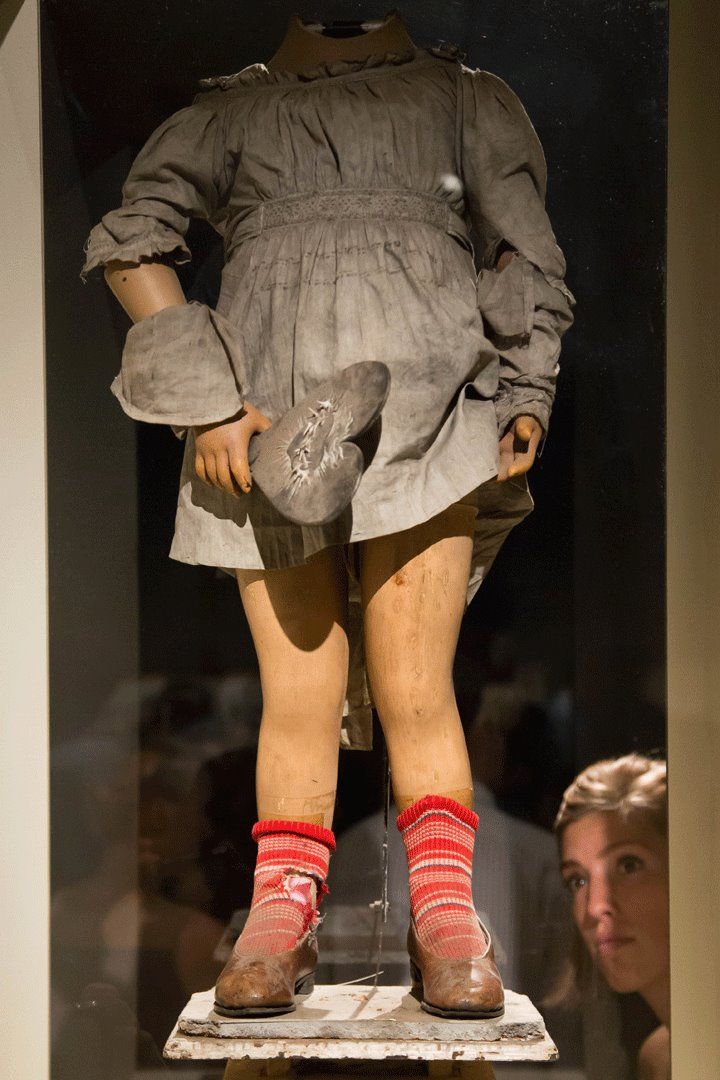 Photo Courtesy of MoMa
The Quay Brothers have been on the
art scene
for quite a while now but if you haven't heard of them yet and are in New York, make sure to stop by the Museum of Modern Art to check out their new retrospective, "Quay Brothers: On Deciphering the Pharmacist's Prescription for Lip-Reading Puppets." The identical twin brothers are known for their incredibly influential stop-motion animation and live-action filmmaking projects (of which there are over 45), having an eerie style that harkens back to the masters of surrealism.
Their work on the "Day of the Dead" hospital scene in the 2002 film
Frida
may be what the majority of the population knows them for, or at least recognizes, but their catalogue is vast, also known for their work as illustrators, set designers, installation art, television commercials, and pieces in films not their own.
Born in 1947 in Pennsylvania, the brothers (Stephen and Timothy) studied illustration at the Philadelphia College of Art before moving to England to attend the Royal College of Art in London. They still live there to this day, creating work with many different influences, from the written work of Franz Kafka to the Czech animator Jan ҆vankmajer.
Their stop-motion animation tends to be filled with fragmented puppets and various organic materials, piecing together miniature sets that reflect a much darker and more surreal version of reality. Much of their film work is without dialogue, instead relying on the dark atmospheres and musical scores (some prerecorded and some specifically written for their films). For the few pieces that do feature spoken dialogue, it seems to be used as a gibberish form of non-communication, emphasizing the transient nature of language.
One of their biggest hits is their 1986 film
Streets of Crocodiles
, which director Terry Gilliam selected as one of the top ten best animated films of all time. The 21-minute-long film follows the story of a creepy little puppet as he meanders through an mechanical landscape, lost and isolated in a world he doesn't belong in.
The MoMA exhibit runs from August 12, 2012 to January 7, 2013, giving people plenty of time to stop by and check their life's work out. Organized by the museum's Associate Curator of the Department of Film, Ron Magliozzi, the gallery and film retrospective is the first exhibit to present all of the Quay's work, in all of the different fields they have delved into.
The show will feature their most well known films, as well as "never-before-seen moving image works and graphic design, drawings, and calligraphy, presenting animated and live-action films alongside installations, objects, and works on paper." Visitors will also get to see small-scale sets from various works, including puppets and materials used within them, and an exclusive video the brothers created just for the exhibit, called
Hopscotch
Accompanying the exhibit is a film series called "Lip-Reading Puppets: The Curators' Prescription for Deciphering the Quay Brothers." The film series intends to build a deeper appreciation for the Quay Brothers' work by featuring shorts, dance films, documentaries, music videos, commercial spots, and two full films. The museum asserts that "never before has their distinctive visual poetry of gesture and alienation been presented in full." The series runs until January 7, 2013 and will have screenings of
Institute Benjamenta
all August, while
The Piano Tuner of Earthquakes
is slated to screen during September.
For more information on the exhibit visit
MoMA.org
.