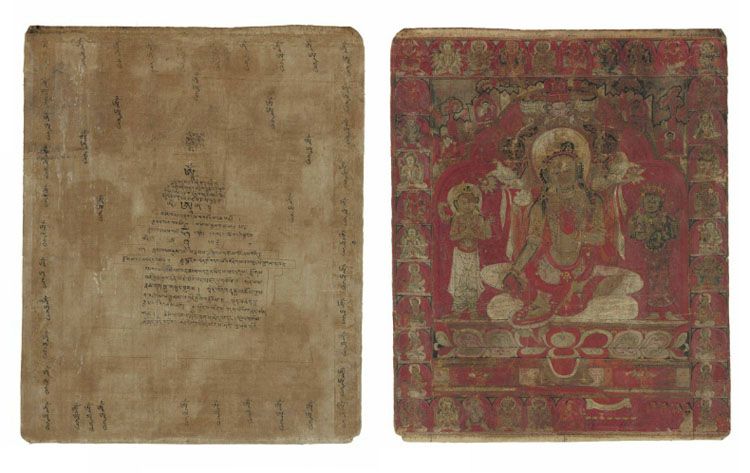 Photo Courtesy of Christie's
Sales figures for Christie's Fall Asian Art Week totaled $44,735,075 over a four-day sales period from September 11-14, 2012. The announcement on sales results was made by the world's number-one auction house on Tuesday, September 18, 2012. 
Sales of Japanese and Korean art amounted to $9,116,600. A blue and white porcelain dragon jar of the Joseon dynasty circa 18th century was the top-selling lot at $3,218,500. The top lot from the South Asian Modern and Contemporary art selections, an untitled oil-on-canvas painting by Vasudeo S. Gaitonde, sold at $962,500. The South Asian and Contemporary art fetched $7,670,750 million.
The top lot of the Indian and Southeast Asian art also set a world record for a Tibetan painting, selling at $1,762,500. In the Asian Art Reference books category, Mizuno, Seiichi, and Toshio Nagahiro, "Yun-Kang The Buddhist Cave-Temples of the Fifth Century A.D. in North China," sold at $74,500. A bronze, ritual wine vessel, Zun, from the Late Shang/Early Western Zhou dynasty was the highest priced item from the Fine Chinese Ceramics and Works of Art category. It sold at $1,426,500.
"An 18th century Joseon dynasty blue and white dragon jar, selling for $3.2 million, led a dynamic and diverse series of sales. This week's auctions, exhibitions, and events demonstrated again Christie's commitment to all cultures and epochs of Asian art," said Jonathan Stone, chairman and international head, Asian Art, in a prepared statement. "There was global participation, reflecting a worldwide demand for the greatest objects of Asian art."
To view all results of the Christie's New York Asian Art auction, visit
Chrisities.com
.