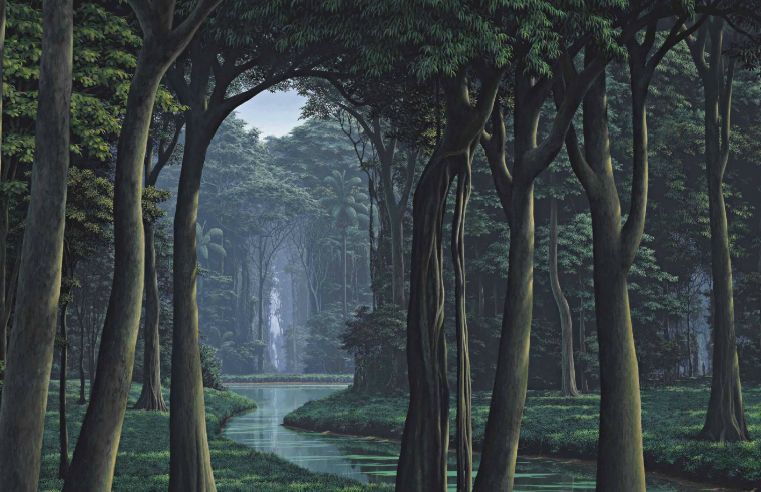 Photo Courtesy of Christie's
A new world record for 28 Latin American artists was the net result of the recent Latin American Art Auction by Christie's last week in New York. The two-day sale raked in $17,966,450. Eight of the top 10 valued lots went to private collectors. 192 of the 292 lots offered sold. Sixty-eight percent of the pieces sold by lot; 82 percent by value.
The auction's highest selling item was a bronze horse by Fernado Botero, Horse, which he executed in 1999, that sold for $938,500. Ruffino Tamayo's Tres personajes en un interior, an oil and sand on canvas painted in 1970, was the second highest priced piece that sold at $698,500. 
A work by Tomás Sánchez completed in 2005, Buscador de palasajes, an acrylic on canvas piece, established a new world record for the artist, as it sold at $626,500. Additionally, Sánchez's Llegada del caminante a la laguna, an acrylic on canvas that he painted in 1999, sold at $602,500. Two artists, Botero and Sánchez, had two of their works on the top 10 highest priced lots sold at the Latin American Art Sale.
"Building from the excitement of great prices achieved in the Latin American evening sale, we had an energetic Day Session of Latin American art, demonstrating the strength of the middle market across all categories, ranging from the Spanish Colonial to the contemporary,' said Vigilio Garza, head of Latin American Art for Christie's. "There was fast-paced and spirited bidding in the room and online, with 18 percent of lots bought or directly underbid by a Christie's LIVE client."
Garza also indicated that 30 auction records were achieved over the two-day sale of Latin American art. Arnaldo Roche Rabell, Tomás Sánchez, Olga de Amaral, Carmen Herrera, Iber? Camargo, and Oscar Mu?oz established new world records for the highest recorded sales price achieved by their art.