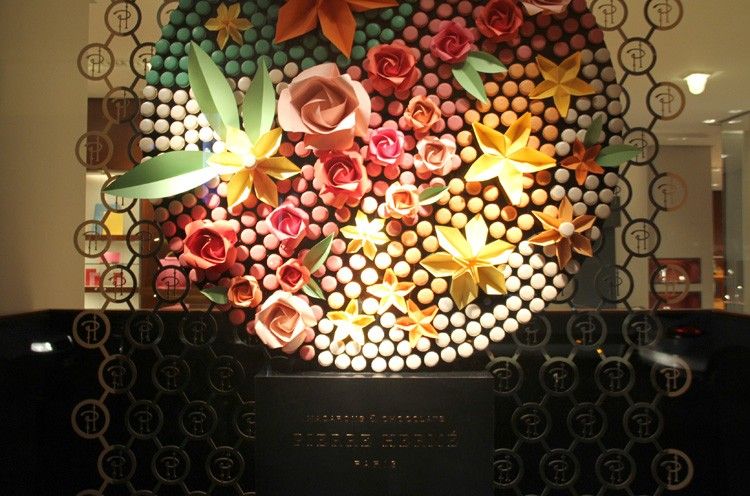 Photo Courtesy of Rana Babac
Today marks the end of the first Festival Colbert in Istanbul during which twenty-six companies of the prestigious Comité Colbert of France presented their own take on modernity to the public.
Through a cluster of showcase events at the selected boutiques of fashionable Nisantasi district and the spacious Istinye Park shopping mall, Istanbulites had the chance to discover different French luxury brands and learn about their heritage.
Collaborating with artists, Festival Colbert also celebrated multiple facets of French Art de Vivre under the "Duos" concept through collective events organized with contributions of visiting Comité Colbert members – or "advocated of excellence" as referred to in an official statement.
For the occasion; Cartier partnered with Rémy Martin, Chanel and ?res with S?vres Cité de la Céramique, Christian Dior with the Plaza Athénée, Christofle with Hédiard and Perrier Jouet, Herm?s with Pierre Hermé, and Louis Vuitton with Baccarat, Christian Liaigre and Ercuis.
The Sultan's Favorite Louis Vuitton Chest
One of the highlights of the festival was surely the custom made wardrobe chest of Sultan Abdülhamid, which has been on display at the Louis Vuitton store in Ni?anta?ý. The chest specially made for the Sultan has a front panel that opens like a flap on a desk – which is very traditionally Turkish. The outside is covered in the second version of the Louis Vuitton canvas introduced in 1872 featuring vertical red stripes on a beige background. According to the reference book available at the store, each drawer of the chest originally had a red leather shield, embossed with a golden crown.
(Photo Courtesy of Rana Babac)
8 TIES Installation & Pierre Herme's Macaroons by Herm?s
In collaboration with Miguel Chevalier, Herm?s showcased an interactive book featuring a collection of ''8 Ties'' with digital patterns - each accompanied with a letter to the visitor carefully explaining the idea behind the design and the design behind the idea.
Both timely and timeless, Herm?s has already made a name for herself with meaningful digital applications and smart digital media use and yet the brand did not fully give up on the traditional either. Although the festival ends today, Pierre Herme's bright and colorful macaroon installation can be seen at Herm?s' Ni?anta?ý store until the end of January.
(Photo Courtesy of Rana Babac)
Teleidoscope by Christofle
As a part of the French luxury week, a "Teleidoscope" specially designed for Christofle by Turkish designer Alper Boler was showcased at brand's Ni?anta?ý store. As the visitors peaked through the small hole placed at the center of a huge black cylinder shaped Teleidosope, glistening Christofle products dance in harmony changing shape and colour. In an attempt to express modernity through the eyes of Christofle, Alper Boler successfully highlights 200 years of a brand in a timely fashion.
Festival Colbert is the first luxury festival in Ýstanbul organized by Comité Colbert - an association that serves as a standard-bearer for luxury. While the boutiques are generally happy with the festival and the interest it generated, some boutiques certainly could have put in more thought and effort into what they have to offer for visitors.
While the flagship brands of the luxury industry such as Louis Vuitton and Herm?s have successfully differentiated themselves with their creative projects, others simply participated with – not so impressive –window installations, reinterpretations of house classics, special creations or small parties – which frankly is far from satisfying for a festival of such high caliber.
When and if Comité Colbert revisits Istanbul with Festival Colbert in 2014, hopefully participating luxury boutiques would put in a little more thought and effort to live up to the expected standards of Festival Colbert.
(Photo Courtesy of Christofle)
The Istanbul Modern Exhibition
This January the Comité Colbert also sponsored a contemporary art exhibition Modernity? Perspectives from, France and Turkey, which opened on January 15 at the Istanbul Modern, bringing together works by contemporary artists in France and in Turkey.
"By contributing to cultural life in Istanbul, French luxury plans to demonstrate social responsibility and promote cultural diversity while celebrating the vitality of the Turkish art scene." read the official statement issued by the Comité Colbert.
Modernity? Prespectives from, France and Turkey at the Ýstanbul Modern Museum is to run until May 16.
(Photo Courtesy of Rana Babac)