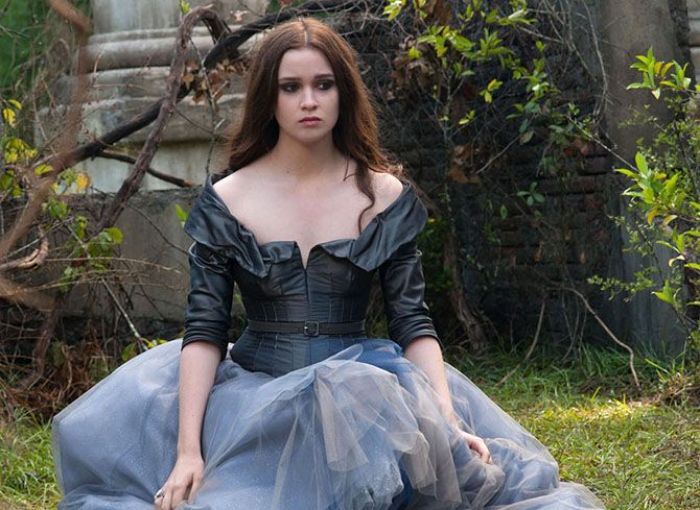 Photos Courtesy of Warner Bros. Pictures
In the film
Beautiful Creatures
, Gatlin, South Carolina might seem like a sleepy Southern town where nothing ever happens, but beneath the surface, there are strange and magical forces, rooted in the past, that are about to re-emerge in ways the townspeople can't even begin to imagine. Shot on location in and around
New Orleans
and Baton Rouge, Louisiana, the film adaptation of
Beautiful Creatures
from director/screenwriter Richard LaGravenese (
Water For Elephants
) is based on the New York Times bestseller by Kami Garcia and Margaret Stohl, and succeeds in bringing the gorgeous costumes and sets to life.
It's a Romeo and Juliet love story with a supernatural spin and a cast of young newcomers supported by stellar veterans like Jeremy Irons, Emma Thompson, and Viola Davis. Alden Ehrenreich stars in the romantic role of Ethan Wate. "Ethan believes he can make his world what he wants it to be and win this new girl, who is clearly out of his realm," says Ehrenreich. "I think audiences will have fun going on the 'ride' with him and being inside his head as he tries."
That new girl is actress Alice Englert, daughter of Oscar-winning Australian filmmaker Jane Campion, who relished the breakthrough role as young Lena Duchannes. "What really drew me to the film was the idea of these huge supernatural struggles between good and evil told through the context of very human feelings."
When the filmmakers first put Alice in a room with Alden, everything clicked. "Once in a while, you get lightning in a jar, and this was a double bolt," says producer David Valdes. That chemistry was integral to the story of two young people clinging together in the midst of a supernatural war.
Most of the film's production took place in and around New Orleans and an abandoned factory across the bridge from the city was converted to sound stages that housed most of the sets — except for Lena's room, which was constructed on a stage in Baton Rouge. LaGravenese collaborated with director of photography Philippe Rousselot, costume designer Jeffrey Kurland, and production designer Richard Sherman to create a grounded world with a supernatural presence.
"After reading the book, I decided to get a feel for locations before writing, which is a first," says LaGravenese, who has since completed the upcoming
Behind the Candelabra
, starring Matt Damon, and Michael Douglas as Liberace. "I flew to South Carolina, and took photographs in a small town outside of Charleston, called McClellanville. Then I started writing. Being in that place, for me, a kid from Brooklyn, was like being in a foreign country. I was fascinated by it."
For the film locations, the crew sought unique places that had not been shot before, small areas that felt hidden from the world. Covington, Louisiana doubled as the town of Gatlin and also houses the church in which Mrs. Lincoln (Emma Thompson) and Macon (Jeremy Irons) first lock horns. Although the town is picturesque, Sherman searched for something less bucolic than beautiful porches, ultimately finding buildings that had been collapsed and blown out, corrugated tin warehouses, lean-tos and rubble.
Sherman also found practical exteriors for the main sets, including Ravenwood Manor and an antebellum exterior in Morganza, two-and-a-half hours north of New Orleans. In true Romeo and Juliet fashion, family drives the star-crossed lovers apart, forcing Ethan and Lena to scale the wall between Ravenwood and Greenbriar to meet; Sherman's crew had to actually build a wall that was used at the Ravenwood set then moved to the Greenbrier set in Fulsom, Louisiana. Other New Orleans locations included houses near the Garden district, which served as Mrs. Lincoln's and Ethan's homes and the Prytania movie theater, where Lena and Ethan's first date takes place.
Costume designer Jeffrey Kurland's challenge mirrored that of the production design team: creating different looks for the many sequences in the past and present, for varying time periods. Nearly 80 outfits were custom made, including Jeremy Irons' entire wardrobe for his powerful role as Macon Ravenwood. "Macon can do and wear whatever he likes," says Kurland. "That freedom was a nice thing to have. You see a little reference to the '20s, '30s, and so on because he's been around a long time." Irons agrees and calls his character "an enigma. He has a style, a wit and a bit of mystery. I found all of those things very interesting to play. I knew it would be fun to come to Louisiana and tell this story."
The costumer also got to play with Ridley Duchannes' (
Shameless
star Emmy Rossum) look, which is as unpredictable as her character. "Ridley is quite the fashionista," he explains. "Since LaGravenese wanted to have more fun with the magic, Kurland incorporated an iconic film look for each of Ridley's ensembles, including Rita Hayworth in
Gilda
and Marilyn Monroe in
River of No Return
."
By contrast, Emma Thompson's character, the dangerous Bible-beater Mrs. Lincoln, "is the champion of the dowdy housecoat and some really terrible suits and twin sets," Thompson laughs. "Her underwear alone is a whole story: a pointy bra, girdle and nylon underwear. It's like a nylon hell. She always wears a crucifix and has a tight hairdo like a helmet. It's tragic. Jeffrey had this fabulous opportunity to put me in some of the ugliest things he ever made. And for me, it was great to be given a role where you could really turn around and destroy the Earth. When I read the script it made me say, 'yes, please, how delicious.'"
Kurland's design for Lena's ball gown incorporated both the formality demanded by the grand ball event and a representation of Lena's true personality. "I decided that layers of tulle, silk gazar and net would be lightweight and work beautifully for the movement and physicality involved," Kurland describes. "The bodice needed structure, but I designed the top of the gown as a man's shirt might look, open and loose, which I felt was more her style. The vintage silk peau de soie and many well-placed seams helped to give it the grace and elegance that it required."
Although Kurland created many new costume concepts, there are specific iconic traits in the book that he took care to carry over to the screen, including Lena's necklace. Kurland designed it and says, "It's little pieces of what she's gathered together from the places she's been, a little trinket, a little charm, a piece of a doll, and a bottle cap is also there."
"It was really great working with Jeffrey and beginning to understand Lena and the way she dresses," says Englert. "It was fun getting into those details." Part of that unique style is a tattoo number that changes as Lena counts down to her sixteenth birthday where she'll either be claimed by light or dark magical forces.
Amma, played by Viola Davis (
The Help
), also has a telling tattoo as well as a wardrobe that alludes to her ancestral African roots. "There's a certain kind of spirituality and elegance to Amma," says Kurland. "Her wardrobe is tailored but very avant-garde, colorful and patterned. It stands alone."
As Lena faces her moment of reckoning, everyone attends a ball to celebrate her transformation, but at the same time, the mortals are celebrating the Civil War re-enactment of the Battle of Honey Hill. Both required many costumes. "First, there's the real 1864 battle. Then there's the modern day reenactment," says Kurland. "There is a difference between what people in 2012 think 1864 is like as opposed to what it actually was like."
The ball scene was shot at the Ravenwood exterior and LaGravenese told his costume designer he wanted the look to be "Ascot Gavotte-meets-Alexander McQueen", commenting, "Jeffrey created 25 of the most original costumes with no time in the schedule because I got the idea during prep. He's amazing."
The artful mix of location and fashion makes
Beautiful Creatures
both an imaginative romance and a time-traveling fashion show, each with a message. "With all our flaws, fears, confusions and weaknesses, mortals also have great powers. Faith. Choice. Compassion. Sacrifice. Love. In telling a story about Supernaturals, the hope is we're telling a story about the magic of our own humanity that makes ordinary beings extraordinary, beautiful creatures."