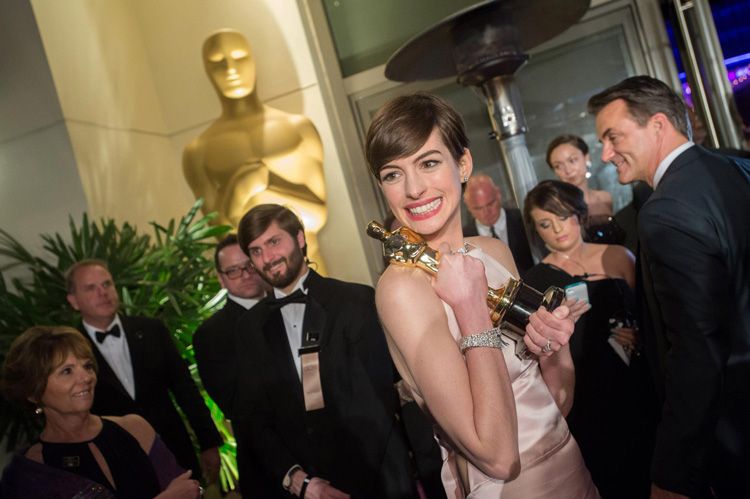 Photos Courtesy of The Academy Awards
The
85th Academy Awards
are officially over for another year; the gold statues have been handed out, the speeches recited and the gracious losing faces put to good use. This year's awards was hosted by
Family Guy
creator
Seth MacFarlane
, known for his sharp humor and across-the-board mockery, which probably put a few people on the edges of their seats with worry as to what he would say. His turn as host was actually pretty tame (for him anyway), save for a couple jokes that got people laughing nervously (guess it's still too soon to joke about Lincoln's assassination). Some are complaining that MacFarlane was dull and attention-seeking but considering he gave us multiple song and dance numbers (including one about which nominated actresses have shown their breasts in film), hung from the ceiling dressed as
The Flying Nun
, and reenacted
Flight
with sock puppets, he did a pretty great job. His charming self-deprecation even got
Tommy Lee Jones
to laugh by joking about getting Tommy Lee Jones to laugh. What more do you want from the guy?
The Oscars this year held a few history-making and surprising moments. The most notable surprises among the nominees was
Ben Affleck
being snubbed in the Best Director category even though his film
Argo
was nominated for Best Film (only the fourth time a film's won Best Picture without the director nominated). The snub may have actually helped in the end considering his film won three Oscars (Best Film, Adapted Screenplay for
Chris Terrio
, and Film Editing for
William Goldenberg
). The Oscars also made history when, via satellite from the White House, First Lady Michelle Obama presented the award.
This year also broke some records, as the youngest and oldest nominees appeared in one category together. Nine-year-old
Quvenzhané Wallis
was nominated for her strong performance in
Beasts of the Southern Wild
and 85-year-old
Emmanuelle Riva
was nominated for her tender performance in
Amour
. While neither actress won (
Jennifer Lawrence
took the statue home), their nominations alone are enough to get major accolades and recognition.
Daniel Day-Lewis
took home the Best Actor award for his lead performance in
Lincoln
, which should be a surprise to no one as Day-Lewis is basically a sure-thing for whatever award he's up for. His win marks him as the first actor to win three lead Actor awards, as he won previously for
My Left Foot
and
There Will Be Blood
.
The biggest winner of the night was
Life of Pi
, haven deservedly taken home four awards, including the awards for Cinematography, Visual Effects, and Original Score. Director
Ang Lee
won Best Director for the film, thanking the "movie god" and the Fox executives who supported the costly CGI-heavy film in his acceptance speech. Lee won Best Director seven years ago for
Brokeback Mountain
.
Another interesting moment was when a tie was announced for Sound Editing, awarding both
Zero Dark Thirty
and
Skyfall
. Other notable winners include
Christoph Waltz
for Supporting Actor,
Anne Hathaway
for Supporting Actress, and
Quentin Tarantino
for Original Screenplay for
Django Unchained
.
The 85th Academy Awards Winners
Supporting Actor:
Christoph Waltz,
Django Unchained
Animated Short Film:
Paper Man
Animated Feature Film:
Brave
Cinematography:
Claudio Miranda
,
Life of Pi
Visual Effects:
Life of Pi
Costume Design:
Jacqueline Durran
,
Anna Karenina
Makeup and Hairstyling:
Les Miserables
Live Action Short Film:
Curfew
Documentary Short Subject:
Innocente
Documentary Feature:
Searching for Sugar Man
Foreign Language Film:
Amour
Sound Mixing:
Les Miserables
Sound Editing:
Zero Dark Thirty
and
Skyfall
Supporting Actress:
Anne Hathaway,
Les Miserables
Film Editing:
Argo
Production Design:
Lincoln
Original Score:
Life of Pi
Original Song:
Adele
,
Skyfall
Adapted Screenplay:
Chris Terrio,
Argo
Original Screenplay:
Quentin Tarantino,
Django Unchained
Directing:
Ang Lee,
Life of Pi
Actress:
Jennifer Lawrence,
Silver Linings Playbook
Actor:
Daniel Day-Lewis,
Lincoln
Best Picture:
Argo