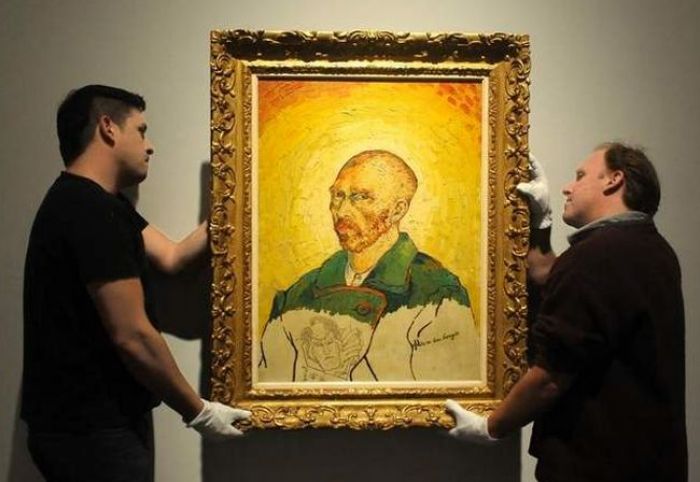 Nevada Museum of Art's
newest exhibition,
A Real Van Gogh? An Unsolved Art World Mystery
(which will be on view from April 13 through August 15, 2013).
Photo Courtesy of Van Gogh Gallery
The painting in question is known as
Study by Candlelight
, and was purchased in 1948 by famed art collector and Hollywood producer William Goetz (the head of Universal Pictures). Even though Goetz bought it from a pretty trustworthy art dealer and the painting was deemed legitimate by a Van Gogh expert, the work still rose speculation as to its authenticity, sparking a worldwide art mystery. Now, years later, the Goetz family is dusting the painting off and bringing it back to the forefront, hoping to learn more about the painting's origins. According to the museum, by "drawing upon recent scientific development in the study of the artist materials and working methods," there is a pretty decent chance that new information will come to light.
Photo Courtesy of Van Gogh Gallery
According to
Art Daily
, the Goetz family hired John Twilley (a highly esteemed art conservation scientist) to embark on a scientific quest, using x-ray, infrared technology, and pigment analysis to unearth new details. The research is still underway but will apparently be added to the exhibit once it's completed this summer.
"This exhibition features a single painting whose authenticity has been debated for decades," says Ann Wolfe, Senior Curator at the Nevada Museum of Art. "We may never know for sure who painted
Study by Candlelight
, but whether one has an interest in Van Gogh, art history, Hollywood's Golden Era, international politics, or issues of science and conservation, the story surrounding this cultural object is fascinating on many levels."
Photo Courtesy of Van Gogh Gallery
While the exhibit is all about whether or not
Study by Candlelight
is a real Van Gogh, the NMOA isn't going to release any opinions one way or another. Instead, the museum is more concerned with the painting's story and has put on display countless archival documents, photos, and press materials concerning the history of the artwork and the Goetz family. The painting will be set up beside Van Gogh's arsenal of work in comparison, taking a look at the stylistic and historical context of the artist and inviting visitors to come to their own conclusions.