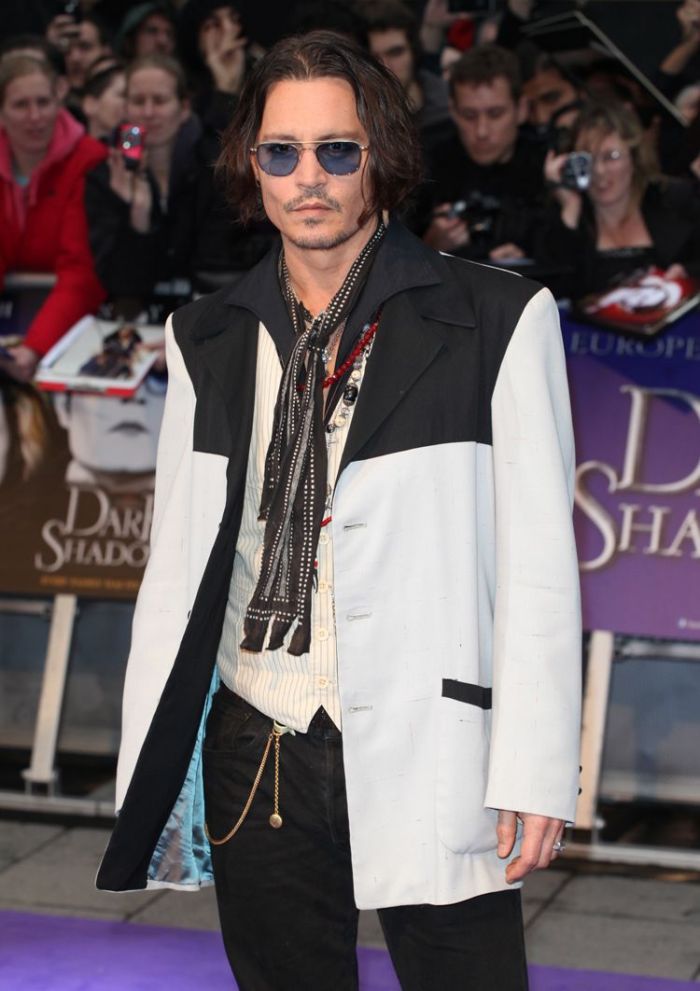 Johnny Depp
is a megastar and he will be until the day he dies. The 50-year-old actor (yes, he's 50) has starred in so many fantastic films that it can be tough to keep track of them all. While his role as Jack Sparrow in the
Pirates of the Caribbean
franchise (with the fifth slated for a 2015 release), as well as his continual collaborations with director Tim Burton, have made him more popular than ever, they also created a consensus among some that Depp makes the same movies over and over. The big budget Hollywood flicks have begun to overshadow the depth of his acting range and as enjoyable as I'm sure
The Lone Ranger
(in which he plays the iconic role of Tonto) will be, it will be nothing compared to Depp's previous films.
Here are my nine picks for Johnny Depp's best underrated movies — though these aren't his only good ones, just the ones the majority of folks may not have seen. For example,
Fear and Loathing in Las Vegas
and
Edward Scissorhands
are absolutely brilliant, but I'm pretty sure everyone's seen them by now. Instead, these are the flicks (in order of release date) you need to spend a couple days watching, from
Cry Baby
to
The Libertine
.
Photo Courtesy of Universal Pictures
Cry Baby
1990
Cry Baby
was Depp's way to break from the television heartthrob status he unwillingly achieved through
21 Jump Street
. Directed by John Waters, this weird teen musical parody stars Depp as "Cry Baby" Walker, a 1950's rebel who falls for the good girl (Amy Locane). Though the plot sounds cliché, nothing Waters creates could ever be considered as such. With a great cast featuring Iggy Pop, Traci Lords, Ricki Lake, David Nelson, Susan Tyrell, and Kim McGuire,
Cry Baby
is a cult classic full of memorable and fun moments. Commenting on the social history of rebellious youth and the adults who fear them, the film excels at highlighting our nostalgic love for past incarnations of rebellion while rejecting the present forms. Plus, there's rockabilly music and a scene that has to be Waters' version of Elvis Preseley's
Jailhouse Rock
.
Photo Courtesy of MGM
Benny & Joon
1993
Benny & Joon
was my first introduction to Johnny Depp when I was a kid (
Edward Scissorhands
followed closely after) and spurned an obsession with silent film actors — especially Buster Keaton. A quirky love story, the movie stars Aidan Quinn as Benny, a man who struggles to take care of his schizophrenic sister Joon (Mary Stuart Masterson). Johnny Depp plays Sam, the cousin of Benny's friend, who ends up staying with the siblings and falls in love with Joon. Tender and bittersweet, the love story is possibly best known for Depp's theatrical physical comedy — which takes inspiration from the likes of Charlie Chaplin, Harold Lloyd, and Buster Keaton — that shows how great he would have been as a silent film star in the 20's.
Photo Courtesy of Paramount Pictures
What's Eating Gilbert Grape
1993
This movie follows Gilbert Grape (Depp), who takes care of his mentally ill younger brother Arnie (
Leonardo DiCaprio
), his two sisters, and his house-ridden mother (Darlene Cates), all while trying to lead the normal life of a 21-year-old. They live a life of routine that is broken when Gilbert falls for Becky (Juliette Lewis), a newcomer in town who brings newfound excitement to all who meet her. A coming of age tale, the film definitely holds an off-beat quirkiness that people have come to expect from Depp, but it excels because of its heart. Instead of pitying the 500-pound mother and mentally ill brother, this movie portrays them with empathy and understanding, something rarely seen in mainstream films.
"Movies like
What's Eating Gilbert Grape
are not easily summarized; they don't have that slick 'high concept' one-sentence peg that makes them easy to sell," wrote
Roger Ebert
in his review. "But some of the best movies are like this: They show everyday life, carefully observed, and as we grow to know the people in the film, maybe we find out something about ourselves."
Photo Courtesy of Touchstone
Ed Wood
1994
Ed Wood
, directed by Tim Burton, is a stylized biopic of the cult filmmaker
Ed Wood
(who is known for his low-budget science fiction and horror films). Nominated for three Golden Globes (including a Best Actor nomination for Depp and a Best Supporting Actor win for Martin Landau), the black and white film focuses on the time in Wood's life where he was close with Bela Lugosi and made his most famous features. While many would lampoon the cross-dressing Ed Wood as the worst filmmaker of all time, Burton instead creates a love letter to the eternal outsider that resists mockery, one that celebrates Wood's passion and love of film. It's pretty obvious that Depp relished the chance to place the famed filmmaker, donning angora sweaters and high heels with a joy so innocent it will infect your heart. This is one of the films you can point to when someone blasts Depp and Burton's continual friendship in film — they can make whatever they want after giving us
Ed Wood
.
You may think that Ed Wood made subpar films (though they have an incredibly dedicated fan base now), but Burton doesn't try to convince you any differently. "Wood was ignored in life and mocked in death. Burton isn't asking for tears or even a reassessment," said Peter Travers in his
Rolling Stone review
. "Burton asks instead that we see Wood and his misfit menagerie as part of a community in the exhilarating business of making movies. And so, at least for the length of Burton's affectionate and slyly affecting movie, Ed Wood finally belongs."
Photo Courtesy of Mirimax Films
Dead Man
1995
Opening with the Henri Michaux quote, "It is preferable not to travel with a dead man,"
Dead Man
is by far one of the best movies I've ever seen. Directed by Jim Jarmusch, this film is a strange black and white journey costarring a bevy of talented names (Gary Farmer, John Hurt, Crispin Glover, Iggy Pop, Billy Bob Thornton, etcetera) and features a score by Neil Young. Considered a Postmodern Western, the film follows William Blake (accountant turned 19th century poet) as he travels to a town called Machine to collect on a new promised job. Things don't go well and he ends up embarking on journey through life and death with the help of a Native American who calls himself Nobody (Gary Farmer), ultimately bringing Blake to peace.
Dead Man
is quite literally the story of a dead man and is brilliant with so many analytic possibilities. While it's not a silent film, it easily could be with the way the shots are framed and the depth of emotion and symbolism. If you're going to see anything from this article, see
Dead Man
.
Photo Courtesy of Artisan Entertainment
Ninth Gate
1999
Roman Polanski's
Ninth Gate
wasn't a favorite among critics but that doesn't mean it doesn't have merits. Depp plays a rare book broker who is hired to track down and authenticate the last two copies of a hardback supposedly written by Satan himself. While the film has a lackluster ending and may not be the best in terms of horror, it's pretty well-made and fun to watch. Polanski manages to poke fun at the horror genre but does so in a way that honors the tradition. Like many films starring Johnny Depp though, this one wouldn't have been nearly as enjoyable without the Kentucky actor in the lead role — but that's something filmmakers expect. As bad as a movie may be, pop Depp in there and it will at least be enjoyable.
Photo Courtesy of Paramount Pictures
Sleepy Hollow
1999
Tim Burton
's
Sleepy Hollow
is a beautifully constructed Gothic horror film. Thrilling and romantic, the flick tells the classic Washington Irving story of the headless horseman who torments a small New York town in 1799. Historically placed films are where Burton thrives and in this case he created the entire town from the ground up, giving him control over every aesthetic inch. Burton takes what could easily be a trite, overproduced film, and fills it full of excellent acting and stunning visuals (especially when the horseman launches from a tree trunk).
Depp plays the title role of Ichabod Crane, a detective sent to solve some mysterious murders. Instead of covering his face with prosthetics to match Crane's traditional unattractiveness, Burton chose to focus on Crane's distasteful personality traits through Depp's performance (most notably being Crane's squeamishness, initial cowardice, and fainting spells — six of them). Depp also based his portrayal on Roddy McDowall, Angela Lansbury, and Basil Rathbone.
Surprisingly elegant at times,
Sleepy Hollow
takes what you think you know about Irving's story, and creates something fresh, lovely, and by far one of the most beautiful looking films since Coppola's
Dracula
.
Photo Courtesy of 20th Century Fox
From Hell
2001
Directed by the Hughes brothers,
From Hell
is a mystery about Jack the Ripper, loosely based on the comic series by Alan Moore and Eddie Campbell. The nice thing about this film is that it defies categorization and doesn't merely belong to any one genre (including that of horror, crime drama, and suspense) and while many critics tore the film apart, I actually rather liked it. Incredibly atmospheric, the film follows the opium addicted Inspector Frederick Abberline as he hunts down Jack the Ripper, not realizing he's already close to the killer. An effective representation of a spoilt society and a man who wants to bring the rot to light,
From Hell
is a solid film that's not given enough credit.
Photo Courtesy of Weinstein Company
The Libertine
2004
The Libertine
is bookended with a stunning opening monologue and closing epilogue from Depp that alone makes the entire film worth watching. "You will not like me," the Earl of Rochester promises at the beginning. "You will not like me now, and you will like me a good deal less as we go on." The film came out in the middle of the
Pirates of the Caribbean
frenzy and I remember sitting in a theater full of fans expecting Jack Sparrow on screen, but instead getting a hedonistic drama about a man suffering from syphilis. Needless to say, more than a few walked out in the middle of the flick. The drama directed by Laurence Dunmore stars Depp as John Wilmot, the 2nd Earl of Rochester who was known for being a libertine poet in the court of England's King Charles II (John Malkovich). Living a life of sexual decadence, Wilmot finds his lifestyle betraying him with disease and spends the second half of the film dying of syphilis — the real Wilmot died at age 33.
While the film is a bit muddled at times, I loved that Depp did this unexpected film at the height of Jack Sparrow's fame, a brave move that launched him as far away from family-friendly as possible. With strong performances by Depp and Samantha Morton (who plays one of Wilmot's lovers), the film can be difficult to watch at times and I guarantee that certain scenes will burn their way into your psyche (perhaps when his nose falls off). Depp makes good on his opening promise and does everything he can to inspire disgust in the audience, though in his descent into despair one can only pity the poor creature that closes the film with an epilogue, softly asking, "Well, do you like me now?"
"Depp accepts the character and all of its baggage, and works without a net. He is capable of subtle nuances, but the pirate and the earl are not, and Depp gamely follows them into wretched excess," reviews
Roger Ebert
. "You will not like the Second Earl of Rochester. But you will not be able to take your eyes from him."