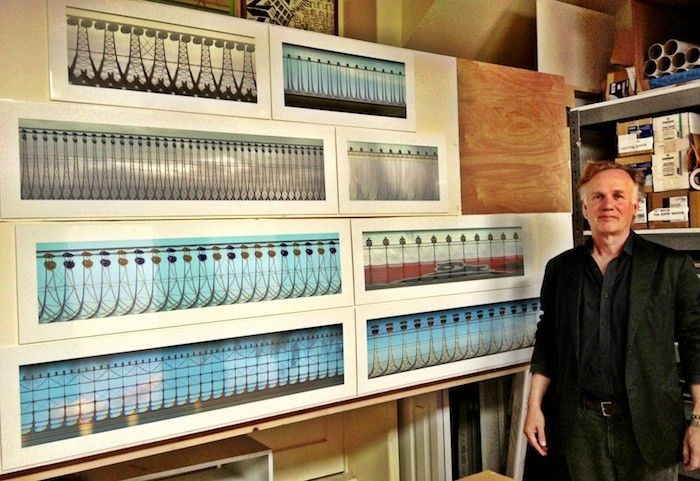 2Sense-Los Angeles
It is one thing to meet an artist at an opening or read an article describing their work. It's even more insightful to enter their actual workspace. An invitation into an artist's home reveals much in terms of where the individual is coming from…and going. Sitting in the roomy Venice Beach home and studio of visual artist and photographer
Jay Mark Johnson
allowed us a unique opportunity to really discover and understand his work.
Johnson's work is eye-catching, with some pieces easily provoking conversation; his images are indeed pictures, but are far removed from a typical photograph. The artist's motivation is to portray beauty while also questioning humankind and our place in time.
Using an $85,000 rotating slit-scan camera, Johnson creates abstract graphics in which stationary backgrounds to appear in motion, while moving images seem still. According to
Slate,
the artist found the initial results poetic when he first tried using the special camera, continuing to experiment until he settled on the aesthetic he wanted.
A man of many talents, Johnson is credited as a student of cognitive sciences, cinematic special effects designer, painter, architect and even a political activist. "My first studies were ones of motion, or motion on the landscape, but once I grasped that, then I tried to use it to engage the world," says Johnson. "Not just in showing something strange or different, but engaging [the world] in a dialogue about who we are or how we perceive things or what our limits are."
From there, Johnson began to create textile-like images as a backdrop for more discernible subjects, most commonly people or vehicles. Yet, no matter what his focus is the direction of the image's face remains to the left.. This creates an endless illusion and conversation starter.
"When you view people all going in one direction, it gives you pause. Maybe we are all going in one direction," says Johnson.
Johnson travels the world shooting subjects that range from open-pit coalmines in Kentucky to rice paddies in Thailand and train yards in Spain. Annually, his global exploration and art reach gallery shows in several countries.
Influential to Johnson's artistic expression is his Hollywood career in visual effects; he has collaborated on both
The Matrix
and
The Titanic.
In addition to his visual work, the artist has also written SPACETIME: Beyond the Constraints of Perception a limited-edition book on human perception of space and time through art and theory.

His work finds permanent residency at MoMA New York, the Smithsonian Institution in Washington, D.C., and the Art Institute of Chicago, as well as other collections internationally. More specifically, Johnson's art may be viewed in LA, in a multitude of boutiques, restaurants and galleries.