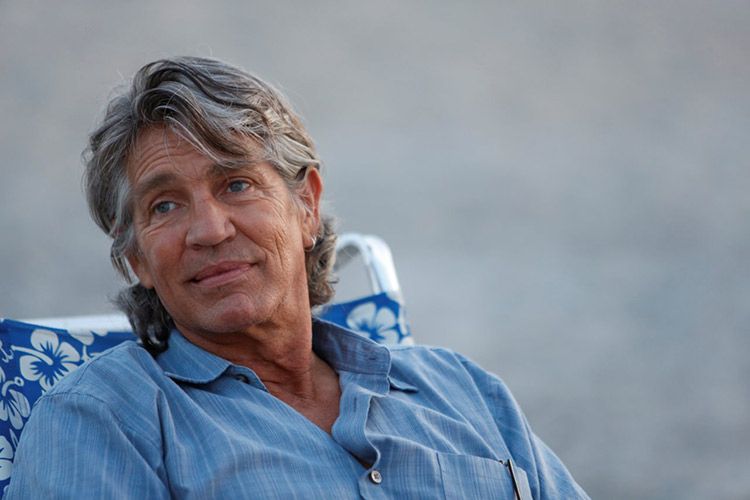 Images Courtesy of UPTV
When actor Eric Roberts was cast in his latest movie, The Perfect Summer, the filming location was familiar, but the role was not. Accustomed to playing thugs, murderers, druggies and just plain bad guys in dozens of films Ė including The Dark Knight, Runaway Train, The Pope of Greenwich Village and The Expendables, Roberts recently found himself in a brand new role: the hero.

Debuting this weekend, the UP Original Movie is an inspirational sun-and-surf family drama, filmed in North Carolina that stars Roberts as a solitary man who gives a sense of purpose to his outcast teenage grandson.

Through surfing lessons from his grandfather, the fatherless teen learns life lessons that allow him to face his fears push through inhibitions and realize that winning the respect of his new peers might mean facing the biggest challenge of his life. Roberts, who has been in the tabloids for his own share of struggles with drugs and relationships, says the movie uses surfing as a backdrop to portray a story about relationships.

ďThis film is about hope. Itís a film about choices. We can all identify with the story, even if you donít surf,Ē says Roberts.

The movie features big-wave local surfers and stars non-surfers, Daytime Emmy-nominee Sydney Penny (All My Children, ), co-stars with Adam Horner Katie Garfield, Louis Mandylor and singer/songwriter Jason Castro (American Idol finalist, season 7) in his TV acting debut.
JustLuxe: You spent 14 days at beautiful Wrightsville Beach, North Carolina to make this film. Had you been there before?
Eric Roberts: I spent a lot of time in that area as a kidÖ Can I just say from the start here that I have the best job on the planet, bar none. Everyone on a movie set really, truly have the best gigs there are because we get to see the world, hang out with groovy people, other people put make-up on us Ė though Iíd do it for free Ėitís cool.
JL: What did you enjoy most about being in such a lovely spot for production?
ER:
I was miserable every second of every day.(Laughs) No, we just hung out at the beach. I learned how to surf a little bit, even though Iím a terrible surfer. We just had fun. I stayed on the beach in a terrific little two-room cottage. It reminded me of times I spent nearby as a kid. We toured the southeast together, my father, my mother and I, because I was an only child until I was 10. They were actors so we three did a lot of road-touring together. They would hit the road for shows and weíd go to beaches for vacations all along the way.
JL: Looking back at your life, what would you say has personally been your most perfect summer?
ER:
I donít have an image of what I want as the idyllic summer, but the most perfect summer Iíve ever spent was in Cape Brenton, Nova Scotia, in a village on the Atlantic coast -- actually, itís a whole Canadian national park -- populated by fishermen and their families. One summer I got in the car and headed north on a weekend road-trip from New York City and thatís where I ended up. The beach was so beautiful that my weekend turned into a week which turned into a month. I couldnít get enough of the lovely people, and the lovely food, and the lovely scenery. The icing on the cake was that no one knew who I was, so it was a genuine getaway. That was my perfect month.
JL: What are your must-have travel essentials?
ER:
I have to have baking soda for my teeth. I have to have a couple cartons of rice milk that doesnít have to be refrigerated. And thatís about it for must-haves. But sometimesÖIím a big fan of broccoli. So my housekeeper, who does all my cooking for me, chops up broccoli really fine, and puts it in a plastic bag for me to carry with me. I have a weird fondness for it.
JL: When money is no object, how do you like to splurge?

ER:
Iím not that kind of guy. Iím so basic and very simple and unpretentious and unneedy. I just roll with the punches.
JL: You seem very mellow and content today, Eric. I wasnít sure what to expect.
ER:
(Laughs)
I am content. I just celebrated my 20th wedding anniversary with my wife, Eliza, and Iím as happy as I can be! I didnít get happy, really, until I was in my mid-40s. But then I got really happy, and Iíve kind of maintained it.
JL: What's your secret for happiness?
ER:
Age. And finally not being so afraid and concerned anymore. Once that mantle has been lifted youíre an open book. Also, I want to be of assistance to my kids so Iíve made myself available and genuinely accessible, and to do that you canít be self-involved. I think itís a big relief to not be so self-involved anymore. I really do.
JL: People like you who are in the spotlight and the headlines often find thatís not an easy thing to do.
ER:
To some degree, but being self-involved is different than being consumed with your career.
JL:
Now that youíre happy, do you think youíre done being type-cast for roles as mean, dangerous, unpredictable, troubled characters?
ER:
No! Villains are the most fun to play. They get to wear the best clothes, and they get the women with the most cleavage. Itís great fun.
JL:
You finally get to play a genuinely good guy in ďThe Perfect Summer.Ē A low-key, mellow, content hero. Who do you look up to as your biggest real life hero?
ER:
This sounds really corny, but I say it often because itís true: my wife Eliza is my hero. How she is in her life, how she is with other people, how she is with family Ė just how she
is
Ė thatís how everyone should be, as far as Iím concerned.