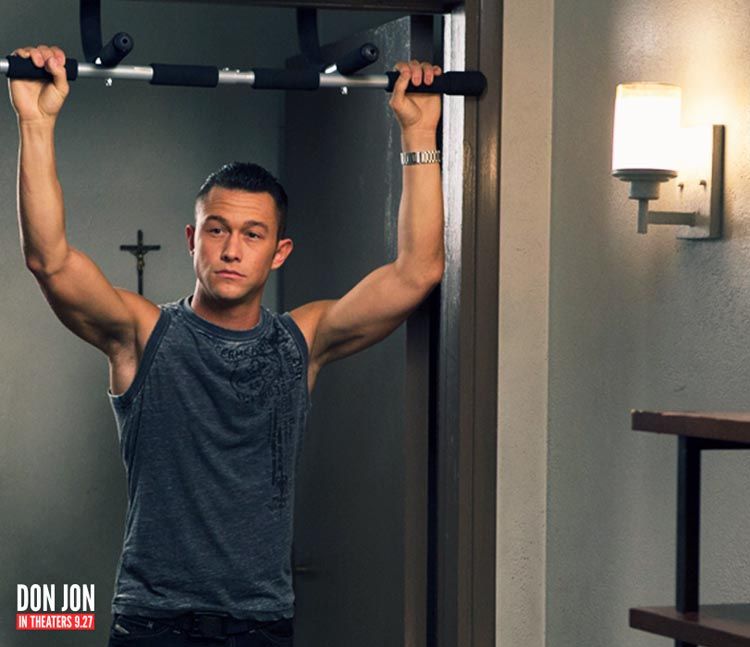 Photo Courtesy of Relativity Media
Who doesn't love
Joseph Gordon-Levitt
lately? Seriously, go outside and try to find someone — I'll wait.
You had a tough time, didn't you? Between his romantic offerings like
(500) Days of Summer
and his gun-toting Bruce Willis flicks like
Looper
(not to mention his playing the coolest Robin Gotham City has had since…well, since ever), JGL has an all-around appeal Hollywood doesn't snatch up very often. Plus, his work behind the camera writing and directing
Don Jon
shows off that self-reflective introspection the ladies just can't get enough of. Add his production company
hitRECord
and his predilection towards taking selfies on top and you have one seriously talented and interesting guy who likes his privacy and is dedicated to projects he can be proud of.
So, before you meet up with friends to check him out in his new film, here's some useful facts about the 32-year-old actor we all know and love.
Born Joseph Leonard Gordon-Levitt on February 17, 1981 in Los Angeles, he was raised in a Jewish family with his late older brother, Dan Gordon-Levitt — who was a fire spinner and photographer. His mom ran for congress in the 1970s with the Peace and Freedom party, and his dad once produced Radio Station in LA.
His maternal grandfather is Michael Gordon, a movie director from the 1940s to 1970s who directed
Pillow Talk
.
Photo Courtesy of NBC
He is entirely of Ashkenazi descent, which is a Jewish division that traces their origins to the indigenous Israelite tribes of the Middle East.
Though he debuted in 1992's
A River Runs Through It
with Robert Redford, JGL's breakthrough television role was in
3rd Rock from the Sun
, which earned him two Hollywood Reporter Young Star Awards. The show received three Screen Actors Guild Award nominations for Outstanding Ensemble in a Comedy Series.
Photo Courtesy of Relativity Media
Once
3rd Rock from the Sun
ended its run, JGL took a break from acting to enroll in Columbia University to study French, history and literature. Lucky for us, he dropped out in 2004 to get back into movies, promising himself that he would only make
good
films.
He created the production company hitRECord in 2005 with his brother Dan as a platform for their own creative endeavors, eventually opening it up to all aspiring artists. The company works to bring people together from all over the world, collaborating on projects with the hitRECord community and with JGL himself.
In an interview with
Out Magazine
, he attributes the site's success to his brother: "One of my favorite things about hitRECord is how positive it is, especially compared to most of what goes on on the Internet, which can be snarky and cynical. I credit Dan with that. He couldn't help but get swept up in it, and it makes me so happy that the momentum continues today. I'm on the site every day, and the fact there's this warmth to it, it reminds me of him
every
time."
He has been published, having curated and edited
The Tiny Book of Tiny Stories
, which is a collaborative work of short stories by members of hitRECord. There are so far three volumes available.
He sings, plays the piano, the guitar, and speaks fluent French. He even sang in French with Anne Hathaway and Lorraine Hoey at a
hitRECord concert in Los Angeles
at the Orpheum Theater.
Photo Courtesy of Joseph Gordon-Levitt Facebook
In an
interview with Howard Stern
, JGL opened up about drugs and his secret girlfriend. He finds smoking marijuana to be a positive influence on his creative process and was actually high when he first conceived of
Don Jon
as a comedy — though he doesn't advocate hard drug use.
It may break your heart a little to learn that he has a girlfriend, who isn't in show business. On why he doesn't like talking about his love life, he told Stern: "I get up in movies and I play other people, so when the audience is watching me in movies, I don't want them thinking about me and who I'm dating, and blah blah blah," he said. "I want them to see the character, the story that I'm telling."
Photo Courtesy of Joseph Gordon-Levitt Facebook
The
24-minute long Sparks
was the first film he ever directed and was selected to be a part of the Sundance Film Festival's short films program in 2009.
In 2010 he directed a short that debuted at Sundance called
Morgan M. Morgansen's Date with Destiny
, a romantic silent film (except for his narration) written by Irish screenwriter Sarah Daly — starring himself and Lexy Hulme. The follow-up,
Morgan and Destiny's Eleventeeth Date: The Zeppelin Zoo
, premiered at the South by Southwest festival that same year and brought in Channing Tatum as a challenging suitor for Destiny. They have been met with such positivity that the makers have decided to continue on with a saga.
He used
Don Jon
, his feature film debut as a director and writer, as a way to ask questions about the way people treat one another and the unreasonable expectations they have due to what they see in the media — which he proposes will always end in a circular self-fulfilling state of disappointment.
Many of the extras in
Don Jon
are members of hitRECord.
Photo Courtesy of Warner Brothers
In January 2013, it was announced that he would be playing Johnny in the highly anticipated
Sin City: A Dame to Kill For
, an entirely new character not seen in the novels.
Photo Courtesy of Sony Pictures
Photo Credit: Joseph Gordon-Levitt Facebook
Photo Courtesy of Summit Entertainment
Photo Courtesy of Relativity Media
Photo Courtesy of Fox Searchlight
Photo Courtesy of Joseph Gordon-Levitt Twitter