Courtney Driver View Profile

Executive Editor | JustLuxe
Grab a VIP Pass For Next Year's Life is Beautiful Festival in Las Vegas
Nov. 1st, 2013 | Comments 0 | Make a Comment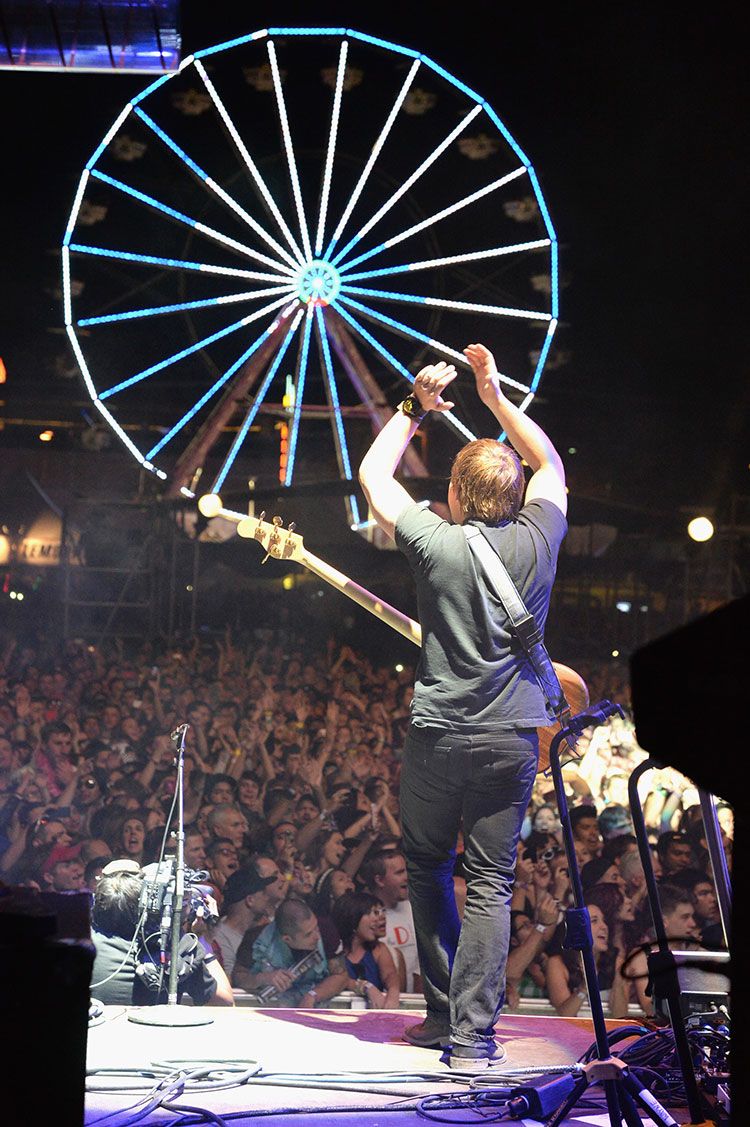 Photo Courtesy of Life is Beautiful
After a fun-filled weekend, Downtown Las Vegas has returned to normal after workers tore down nine stages, a multitude of kiosks and booths, along with art installations that included everything from an enormous "wall" signed by any attendee with a Sharpie to a truck–sized metal praying mantis that shot balls of fire out of its antennae. All said and told 60 thousand people flooded Fremont street for what would be a pretty amazing two days, packed with things to do, eat and experience. (Coachella had about 80 thousand this year to put things in perspective, and they have been at it since 1999.)

Art, food, music and learning were focal points of the first ever Life Is Beautiful Festival, featuring distinguished speakers, popular musical acts, street art, performance art and celebrity chefs. On the foodie front 16 chefs had gourmet bites on offer like Braised Lamb Tacos with goat cheese from Biscayne and Yellowtail Sashimi Jalapeno from Nobu.
Photo Courtesy of Life is Beautiful
The chefs themselves were in attendance in many cases, with names like Cat Cora, Todd English and the Bromberg brothers giving live cooking demonstrations; we even spied Tom Collichio hanging out behind his own booth, albeit slightly incognito. In contrast, Cirque du Soliel was as conspicuous as possible, giving pop-up performances in the middle of the festival, easily drawing a crowd of smiling attendees eager to get up close to the act. Adding to the high-energy atmosphere, visual art was everywhere: sculptures and murals blended right in with the eclectic personality of downtown with enormous Ferris wheels at each major stage lending themselves as brightly lit decorum.
Photo Credit: Brandon Nibarger
As a whole the Life Is Beautiful Festival was spread out enough to not feel too heavily crowded, save for the biggest headliner performances at the Downtown Stage, which saw Imagine Dragons (topped off with a surprise Cirque du Soliel performance), Beck and Kings of Leon on night one, followed by Vampire Weekend and The Killers on the second evening. If you were thoughtful enough to have secured VIP wristbands, two elevated viewing areas were well worth the cost, with one consisting of full cabanas replete with flatscreen televisions and hosts serving up snacks and drinks (beer and wine are even included). Able to accommodate up to 20 guests, the cabanas are the only way to go to experience the luxe side of the festival. The perfect spot to call your home base for the weekend, every one of the best shows played either here or over at the Ambassador Stage, where the highlights of the two days were Capital Cities, Zedd and Empire of the Sun.
Photo Credit: Brandon Nibarger
In addition to the preferential viewing areas VIP attendees had access to special venues, like the Zappos Recharge! party at Commonwealth, where guests had access to complimentary drinks (the good kind) and comfortable places to sit, relax and take a break from the heat and crowds; a professional photo booth and candy bar were also nice touches that made the space feel very fun.
Photo Credit: Brandon Nibarger
For the total package, your best bet for getting the most out of Life Is Beautiful next year will be to secure a suite at one of the hotels in the downtown area or inside the festival itself, all of which sold out very quickly this year, so make plans early for 2014. Set your sights on the new Downtown Grand, which has just had a $100 million dollar overhaul after closing its doors previously as the Lady Luck over six years ago. Any way you cut it however, Downtown Vegas is not exactly known for its luxury amenities, attractions, dining or accommodations. So should you prefer to stick to the main drag, just grab a room at your favorite hotel on the Strip and have the concierge book a driver to go back and forth to the downtown area; the drive is about 15 minutes each way.
Photo Courtesy of Life is Beautiful
Photo Credit: Brandon Nibarger
Photo Credit: Brandon Nibarger
Photo Credit: Brandon Nibarger
You might like :
Life is Beautiful Festival To Feature Chart-Topping Bands, Cirque du Soliel and Celebrity Chefs
Finding the best in luxury can be a daunting task, which is why we've taken it on for you.
LET'S CONNECT LUXURY NEWS & MORE