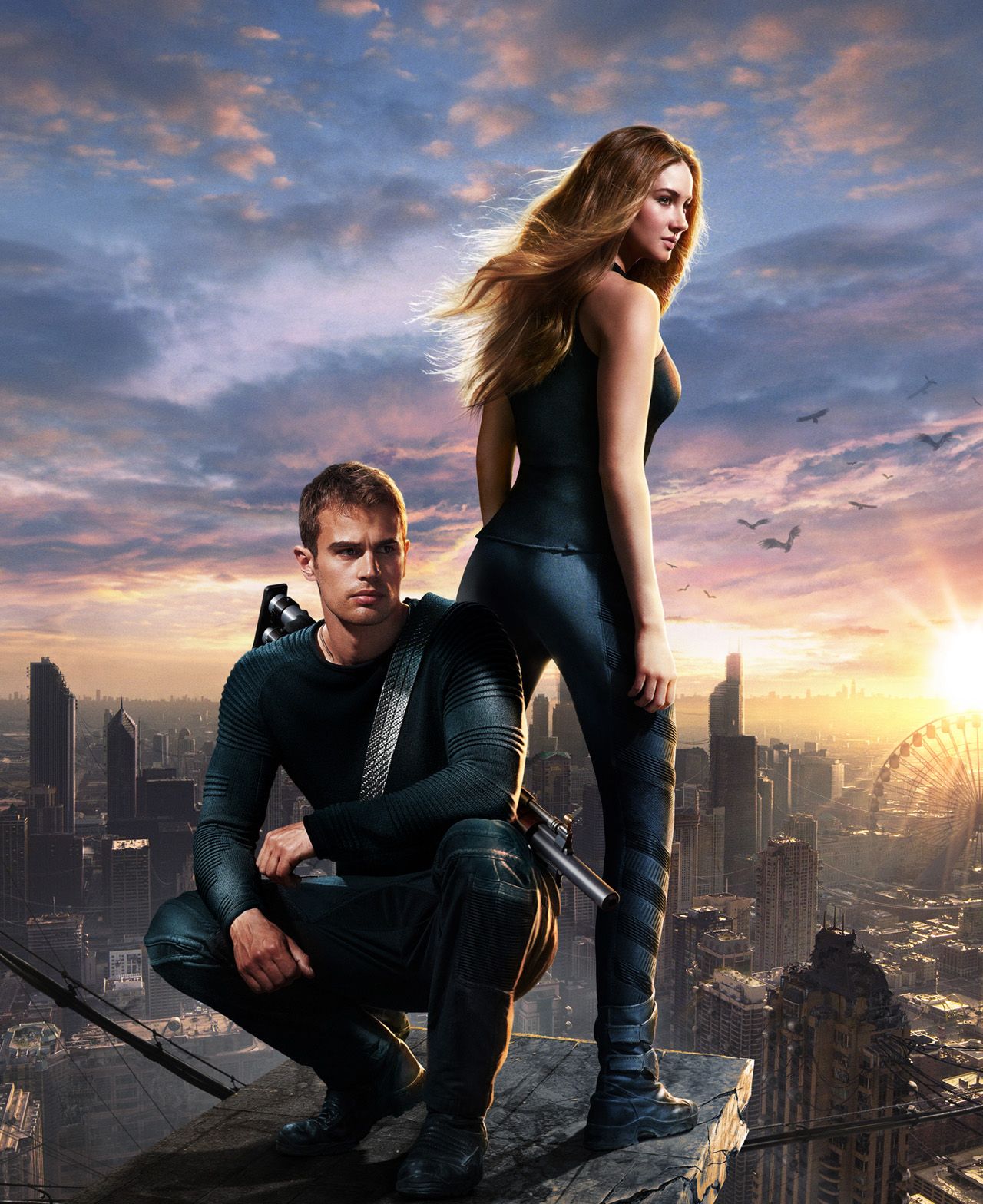 Photo Courtesy of Summit Entertainment
Divergent is without a doubt, one of the most highly anticipated flicks to come around since the first Hunger Games, with fans of the books practically salivating at the thought of seeing their favorite characters come to life. Sure, most people are excited to see Shailene Woodley and Theo James portray the two lovers at the heart of the story, but personally, I was more excited to see Ben Lloyd-Hughes and Christian Madsen play my two favorites from the book: Will and Al. As you can imagine, I was even more excited for the chance to chat with them about their roles — which came in the form of a round table interview on the Hard Rock Hotel terrace in San Diego.
In case you don't know what Divergent is about, it's set in the future in a broken down Chicago where society has been split into five factions. Each faction represents a main trait that each person chooses to belong to: Dauntless for bravery, Erudite for intelligence, Abnegation for selflessness, Amity for peacefulness, and Candor for honesty. The story centers around Beatrice "Tris" Prior (Woodley) as she struggles to find her place as a divergent who doesn't fit in anywhere, all while trying to keep her identity a secret to protect her friends and family.
For those of you who haven't read the books, don't worry, this interview is 100 percent spoiler free.
Photo Courtesy of Summit Entertainment
UK-born Ben Lloyd-Hughes has been in a number of high-profile projects from Great Expectations (also starring Ralph Fiennes) to the most recent stage production of Henry V (with Jude Law). In playing Tris' friend Will, a transfer from Erudite into Dauntless, Ben gives his character the perfect amount of sharp intelligence, confidence, and charming likability. Will is a great contrast to that of Christian Madsen's Al, who is quiet, shy and far too sensitive for the Dauntless environment. Christian's natural James Dean-like sincerity — the type that probably has Bukowski poetry on his nightstand — gives the audience a sense of the leader Al could've been, had Al been nurtured and given some confidence.
The audition process was pretty different for the two of them, with Christian's being much quicker. The audition came at a time when he was facing a lot of rejection and not getting many call-backs, with very little feedback as to why (other than "good, but too tall"). When Divergent came along, he didn't look up who was directing or any signed cast members, instead going in purely because he related so much with the character of Al. After the first audition he got a call asking him not to cut his hair. Then a week after that he did a Skype call with the director, Neil Burger, where they ran through an emotional scene where Al apologizes to Tris. Another week after that, he got a second call asking him again not to cut his hair. "I [...]got a collective call from my agent and manager, and I was being evicted at the time from my apartment, so it was great timing," Christian says. "Still didn't believe it, still don't believe it."
Photo Courtesy of Summit Entertainment
For Ben, it spanned a year. "I got sent the script quite early on and I loved it," he recalls. "I got so wrapped up in the world and I said, 'I love this script and I'd love to be a part of it.' Went on tape a couple of times, for Four actually [laughs], and I didn't get that and I had forgotten about it." It wasn't until much later, when he was in LA for some meetings, that he came across the project again when the team was casting for Will. He ended up having a Skype meeting with Burger (who was already familiar with Ben's work) and soon after that found out he had gotten the part.
With any book adaptation, a big question on everyone's mind is whether or not the movie stays true to the source material. After joking around a bit about the characters changing so drastically that Christian even had to change gender, the two chatted more seriously about bringing their characters to life.
Madsen; Photo Courtesy of Summit Entertainment
"One of the most important things, I'm sure for Al, was that to keep the friendship close between Christina, Will, [and] Tris. Because these are the things I could relate to in High School, having this knit group when you go through a challenging situation like Dauntless was," says Christian. "I sort of put this sort of sub textual thing together where Al's parents were probably a little tough on him and maybe he had a father who was sort of pushing him to be more like a man — 'Show yourself, you're big' — and I think he went into Dauntless wanting to prove to people that he could. You know, maybe if Al had a little bit more of a big brother type thing with somebody, he could have become a leader at some point of Dauntless. But I just think once you get into that situation, it's much different than you thought it would be. It's tough, you know?"
Lloyd-Hughes; Photo Courtesy of Summit Entertainment
"And the great thing about Neil, the director, was when we were rehearsing it for the three weeks before shooting, he was so open to our ideas and our input," Ben adds. "He was like, 'Is there anything in the book that you loved that isn't in the script that you […] think is really important?' That was mainly the conversation."
"We would shoot one day and the next day he would go away and really rewrite or change certain things to be more like the book," says Christian. "We would have these rehearsal processes where we wouldn't necessarily act out the scenes, we would kind of read the scenes and then talk about it and what we all sort of wanted to have from it, and he was just so open and really hands on about the whole approach."
Photo Courtesy of Summit Entertainment
Considering much of the movie deals with extensive training for the Dauntless initiates, it's not surprising that the cast had to go through some training themselves. What is surprising though is that they had several weeks of Muay Thai-style training, which is a lot of time to prepare for a movie of this type. Though the two can't agree on whether they trained for two or three weeks (Christian stands with two, and Ben concedes that maybe it just felt like three), they both had a blast getting into the mindset of their characters.
"I think [..] they just wanted to ingrain in us, mentally and physically, what the character is sort of going through. Always thinking of this fighting style and this mentality of like, one small step and you're factionless, one small step and you move up," recalls Christian. "And I think the training process really helped out with that. We were doing stuff I'd never really even heard of. They would put this tape out and sort of make it like a star and we'd have to run our elbows through it […] and it was really interesting, and you would sort of find yourself in your apartment that night [...] and it sort of got you mentally more into the character."
Photo Courtesy of Summit Entertainment
The training also acted as a bonding process for the huge ensemble cast. On the first day, Christian recalled jumping in a van with everyone, surrounded by the various accents and personalities, everyone excited to get started. "When you're kind of on your last breath and doing push-ups and look over and someone helps you up, it's like a cool moment. That was sort of my first experience where I was like, 'Okay, these are some great people.'"
Photo Courtesy of Summit Entertainment
Maybe their characters' choice to transfer to Dauntless influenced Christian and Ben, because they both agree that if they were to choose, they would go Dauntless too — regardless of whether or not they'd survive.
"Anyone who chooses to change faction, they have that innate rebellion in them, they have the lust for something different, and they have a kind of adventurous side to them, and Will had that in him. He's obviously very intelligent and a bit of a know-it-all. And I can relate to that; he felt like something was missing, he wanted to challenge himself," Ben says. "If I was in a faction I would probably, like Will, try and be Dauntless, I would try and challenge myself. Especially as an actor, you always want to know you did everything you could to do something and that you never gave up and that you left no stone unturned. So, whether I [would make] it or not to the end of Dauntless training, I don't know. But, I would certainly give it my best go!"
Photo Courtesy of Summit Entertainment
"If I were to choose a faction, I guess I'd go Dauntless too, but I'd probably die day two. Jump off the train and miss it," Christian laughs. "Yeah, I would do it, because it's so much different than my life now. I don't jump off trains and fight, and I'm not like one step from being factionless. I think it would just be a great experience. I don't think I would make it very far, but I'd give it a try."
One of the film's coolest scenes happens right after the new group of friends have chosen Dauntless and are being welcomed into their new society by being lifted up into the air. For Ben, it was definitely a memorable moment since he had always wanted to crowd surf, but had never done it before. Unfortunately, when the director was figuring out who would be hoisted in the air, Christian wasn't included.
Photo Courtesy of Summit Entertainment
"Neil was sort of like, 'Obviously Shai [Shailene Woodley] will be carried, [and] Christina [played by Zoë Kravitz].' And then it was like, 'And uhhhh…' And me and Miles [Teller] were like, 'Right here.' And he was like, 'And Ben!' And it was like, 'Ahhhh,'" recalls Christian disappointingly. Though Ben is quick to point out that it is in the book after all.
Another thing Ben had always wanted to do was run down a street in a suit, for whatever reason, and he got to do just that. "You realize you're in a big film when they took over the streets of Chicago on a brilliant, beautiful Saturday morning and me, Miles, and Shai and then a lot of extras were just running down and you could see the L Train."
Photo Courtesy of Summit Entertainment
Much of the film deals with fears and how we conquer them (or succumb to them), which is one of the driving forces behind each faction. Those who battle them go Dauntless, those who use logic go Erudite, etcetera. Ben and Christian had to bring fear to their characters to make them as impactful as possible, giving them motive (especially in Al's case). The challenge for Ben was in having to react to situations and not just rely on dialogue, which is something he wasn't used to.
"A lot of the projects I'd done before was dialogue-based things where you know the intentions and the ideas of the character from what they say and what they do. Whereas this was things happening to us and our reactions to that, sometimes without even lines. It was to do with our eyes and our relationships to each other physically," Ben explains. "So, that was a really interesting idea of what you could convey with your eyes and the environment that you're in, especially when there's a green screen or you can't see it physically, what will be seen on the screen, and that was the first time I had to deal with those green screeny ideas, but it was a good challenge."
Photo Courtesy of Christian Madsen Official Twitter
For Christian, Al's fears hit pretty close to home and was something he could really relate to. "It's smaller than going to a futuristic sort of faction, but you know, you're first day of High School. How are people going to look at you? How are people going to judge you? I didn't have as much confidence. Maybe I'm a little more confident now, but in High School I wasn't like that, in Middle School I wasn't like that. I went through a lot of changes; I didn't always dress like this, I went through a hip hop phase, I went through a goth phase, I listened to rock, so you go through all these phases to find yourself. These are fears that yeah, I dwelled up for Al and I know that he would go through those same things, even if you didn't see it on screen."
Photo Courtesy of Summit Entertainment
The actors themselves don't have many current fears, though Christian may try and claim a fear of spiders because it's "the cute thing" to say and Ben recently had a run-in with the "animalistic vulnerability" of food poisoning. Considering Divergent is going to be huge, they definitely won't have to fear for their careers, which are both bound to explode. Not only does Variety predict the film will open with at least $50 million, the book's author Veronica Roth has given the adaptation her stamp of approval, writing on her blog, "I was nervous to see it, as I think any author whose book is being adapted for the screen would be, but I remember remarking when I first went to set that everyone involved with the movie seemed so thoughtful about the story they were helping to build, and I feel like the final product reflects that."
So, trust me. Once the flick hits theaters on March 21, you're going to want to check it out. And now that you know a little bit more about the men behind Will and Al, you're going to love the characters even more.
Photo Courtesy of Summit Entertainment
Photo Courtesy of Christian Madsen Official Twitter