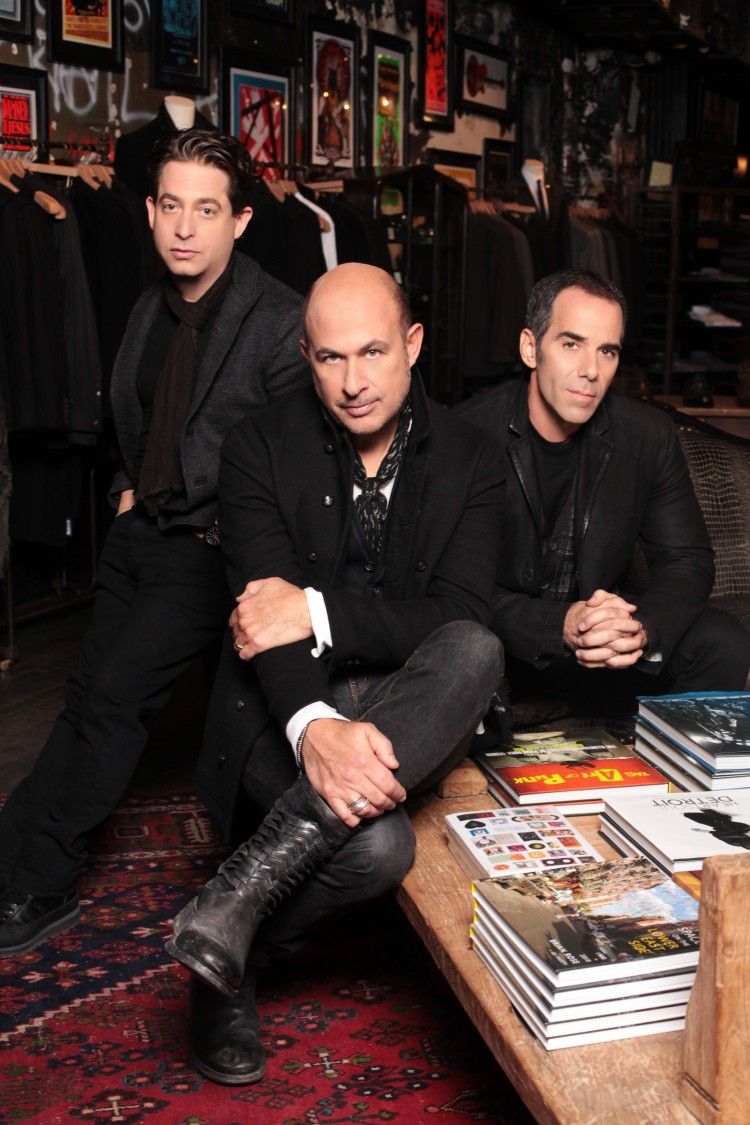 Photos Courtesy of John Varvatos
Sure, renowned fashion designer John Varvatos can rock your wardrobe, but what he really wants to do is rock your ears. In conjunction with Republic Records, Varvatos now serves as the curator and president of his own record label—John Varvatos Records—where he'll spearhead the signing of new acts, guide the release of high-profile reissues and compilations, and, we can only hope, act as sartorial stylist for a stable of fashion-forward music artists.
This new music platform is a somewhat revolutionary collaboration, co-mingling two distinct mediums and brands under one banner. "Music has always been my big passion and an energy force in my life," says Varvatos, a life-long rock fanatic who hosts a Sirius/XM radio show and authored his first book, Rock in Fashion ($495 limited edition) and released the $1,500 The Guitar Collection Book, packaged in a leather-bound guitar case. "As a result, my brand is deeply rooted in it as well. The connection between fashion and music is undeniable and symbiotic."
Republic Records label founder, chairman, and chief executive officer Monte Lipman explains why the mix-and-match pairing makes sense. "John Varvatos is one of the most iconic and important brands in fashion. I felt it instantly exemplified the ethos our company was founded upon. We look forward to embarking on a new journey with one of fashion's foremost figures."
The partnership was Republic EVP Charlie Walk's idea. "John is the only fashion icon I know who has music imbedded into his brand. His appreciation for music along with his incredible taste and texture makes him the perfect partner where music and fashion collide in the truest sense."
The John Varvatos Records label is the newest boutique label of Republic Records, a division of Universal Music Group, and home to such artists as Amy Winehouse, Ariana Grande, Black Sabbath, Colbie Caillat, Enrique Iglesias, Florence + the Machine, James Blake, Of Monsters and Men and Owl City. Who will be the label's first artists? No one's dropping names yet, but his personal taste clearly runs toward classic rock. The John Varvatos brand has launched high-profile fashion campaigns featuring Jimmy Page, Robert Plant, Chris Cornell, Joe Perry, Velvet Revolver, Green Day, Cheap Trick, Alice Cooper, ZZ Top, and others from Willie Nelson to Dave Matthews. Rock legends KISS even serve as the face of the company's Spring 2014 campaign. And in a retail business where location, location, location is key, it's worth noting that Varvatos took over the famous location of the iconic New York City rock club CBGB's in 2008, where his 315 Bowery Store now stands and continues to rock on with free concerts by name artists.