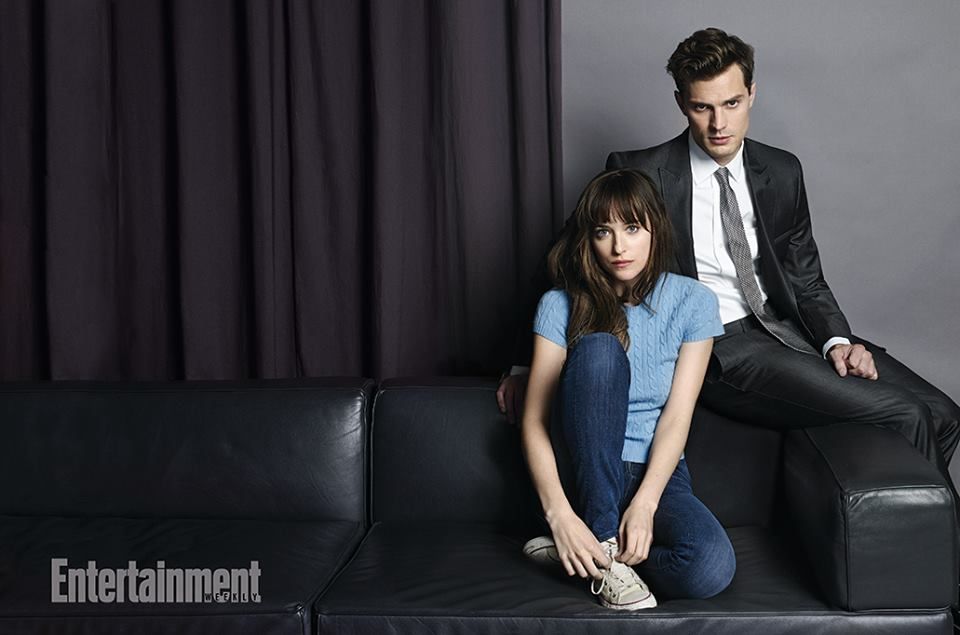 Photo Courtesy of Entertainment Magazine
The first official trailer for Fifty Shades of Grey finally hit the Internet today after premiering on Today, and the world was never the same. The trailer opens with mousy Anastasia Steele (Dakota Johnson) preparing herself to meet the sexually dominant Christian Grey (Jamie Dornan) for the first time and if knee grabbing and longing looks are your thing, this film clip has it all. Aside from a little peek into Grey's sex dungeon, the trailer doesn't delve that deeply into the kinky BDSM the book is so known for, but it's satisfying enough to hold everyone off until the Valentine's Day 2015 release.
While the movie is definitely anticipated (to say the least), many fans have been desperate to see how Dornan was going to handle the controversial role. The British actor, who some know from his short stint on Once Upon a Time and others know from his emotionally disturbing role on The Fall, landed the role when Charlie Hunnam stepped down. Jury is still out on how he handles it, but if the brooding looks are anything to go by, Dornan did just fine.
Photo Courtesy of Paramount
Beyoncé teased her fans with a trailer for the trailer, filled with tiny snippets of footage, on her Instagram a few days ago. The revamped version of Crazy in Love heard in the clip is probably only one soundtrack contribution of many, especially considering her song Haunted was used to soundtrack the footage shown at CinemaCon a few months ago.
Photo Courtesy of Paramount
Photo Courtesy of Paramount
Photo Courtesy of Paramount
Photo Courtesy of Paramount
Photo Courtesy of Paramount
Photo Courtesy of Paramount
Photo Courtesy of Paramount
Photo Courtesy of Paramount