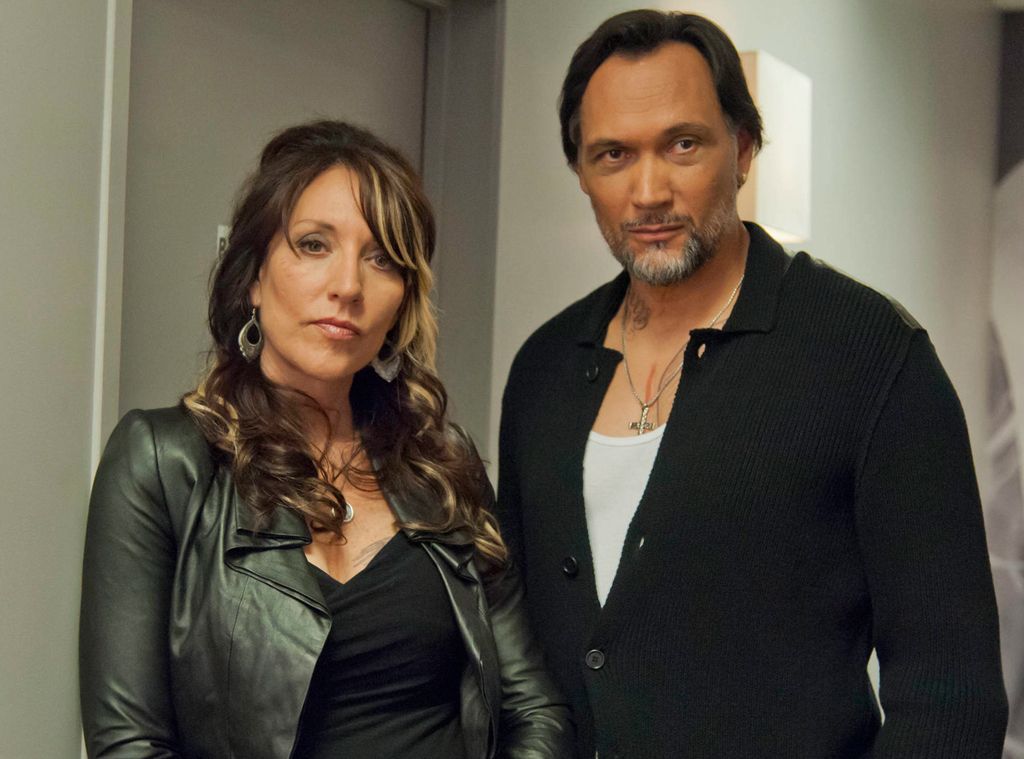 Photos Courtesy of FX/Sons of Anarchy
(Spoilers Ahead) Get ready for a rumble to top all outlaw motorcycle club rumbles. Tonight at 10 p.m. the final FX episode of Sons of Anarchy roars into the sunset, leaving behind a memorable, blood-stained legacy as one of the most-macho, most-brutal and most-addictive television series of all time. One where gang-violence, merciless killings and partial nudity were all in a day's work for actors Charlie Hunnam and Jimmy Smits, just as was wiggling into skin-tight leather and push-up bras has been for Katey Sagal (RIP Gemma Teller-Morrow), the wife of SOA creator Kurt Sutter.
Sons of Anarchy will be remembered as an adrenalized drama with darkly comedic undertones as it explored a notorious outlaw biker club's attempts to protect its livelihood while ensuring that their simple, sheltered town of Charming, California remains exactly that: charming. Behind the MC's familial lifestyle and legally-thriving automotive shop is a ruthless, illegal arms business driven by the seduction of money and power.
In the final episodes, Nero Padilla, played by Jimmy Smits, is conflicted. On the show he was both the good and bad guy, in love with Gemma (Sagal), acts as a stand-in dad to Jax (Hunnam) and is "off-the-chain on junk and grief," summarizes Sagal. Nero didn't take the news well when he learned that his beloved Gemma killed her daughter-in-law, Tara (Maggie Siff). As we saw in last week's episode, this left Jax retaliating in the most Greek/Shakespearean tragedy way possible, by killing her.
Which leaves one big question left to be answered in tonight's finale: Who will be left standing? We prodded Sagal (Married With Children, 8 Simple Rules, Futurama) and Smits (Star Wars, The West Wing, NYPD Blue, L.A. Law, Dexter) for insider details that we could share with you. Here's what we found out:
JustLuxe: We saw Jax get the news that Gemma killed Tara. What can you tell us about the dynamic between Jax and Gemma in the final episodes?
Katey Sagal: You just have to watch. I can tell you lots of tears that were shed. You're just going to have to watch it.
JL: Jimmy? You made it alive to the very last episode. Can you spill any beans? I hope Nero makes it all the way to the end.
Jimmy Smits: He made it till the end, but maybe not to the end end. The reaper, beware of the reaper. I think that Kurt ended it really beautifully and it has all of those elements that have been the signature of the show throughout the seven seasons. I was a little surprised specifically about the way Nero ends up, but I totally get it. I totally get it.
JL: Were you shocked when you read the final script?
JS: I've been continually shocked with the past five scripts in terms of like, 'We're really blowing sh*t up here.' He's going for broke! So it was always with a little bit of trepidation on everybody's part when that new script would come in, to make that turn of the first couple of pages to see what was next or who was going to go down next.
JL: I assume we can safely conclude that no news is good news in this case.
JS: I think there's pain. There's guilt. There's remorse. Did you do the right thing? And I'm sure the scenes are full of anger and trying to grapple with the next move. How do they deal with the feeling of betrayal? And how do they try to go about exacting vengeance or making things right for them or their point of view? Hopefully all of that is full on for this final chapter.
JL: Katey, were you disappointed to not make it to the series finale? Was this the way you wanted her to go?
KS: This was the best, most merciful way to go. I've always seen it as ultimately Jax's journey. It made sense to me that the finale would be about Jax and wherever he goes. So no, I wasn't surprised. I was just glad I made it to Episode 12.
JL: How did all this start? You were known as a comedic actress and singer before your husband, Sons of Anarchy creator Kurt Sutter created the role of Gemma for you.
KS: My husband was working on an idea about an outlaw motorcycle club and he came to me and said that he wanted me to be in it and he was writing me a part. I had no idea what it was, but I liked the idea of that world. I knew him to be a really excellent writer, so I was excited about that. And then we had to go get approval and he had to write the script and the network had to sign off, so it wasn't just a slam dunk.
JL: Kurt told me years ago that he has always known how the show would end. Do you think fans will be satisfied with the series finale?
KS: I'm excited for them to see the conclusion. I feel like this season overall has been so strong in the character department. There's been a lot of action, but there's also a lot of character-to-character conversation and slower beats. And I think the whole season just has a more fluid approach, so I've really enjoyed watching this year and I think that all of the characters have been serviced really well. I just think it'll be really great for fans.
JS: I don't think audiences are going to be disappointed at all. I think they're going to be very satisfied and it's touching in a lot of ways. It's sad, but it's also it's grim, too.
JL: Will we be seeing a little bit of guilt once Nero realizes what happened?
JS: You'll see more than guilt.
JL: How much do you personally relate to Nero Padilla?
JS: The whole thing about how religion is part of his life was a simple little kind of brushstroke on the writers' part that became very important to me. I gave it a lot more weight because I like the fact that this guy seemingly has a spiritual side to him, too. That's intense. And it made sense to me because of the fact that he's sober with a higher power and all that stuff, so I can relate, too. Also the whole thing about the strength of family through thick and thin, even though the whole thing about family is questionable with this particular family. The club becomes the family and when things are done against the family, the family kind of like sticks together like glue.
JL: Until things finally fall apart. Do you think that that love that Gemma felt for Nero changed her for the better?
KS: Yes, I think that he's a different kind of outlaw. He's not as hard around the edges as Clay Morrow and not as sort of wimpy as John Teller ended up being, so I think that she had deep love for Nero. I think there's a lot of regret about where that's going to go with Nero, given that he's moving away and we don't know what's going to happen with her. I think she's kind of bittersweet about that whole thing.
JL: What positive legacy do you think Sons of Anarchy will leave on the world of television?
JS: I think that it engaged the audience in a lot of ways. It makes them root for these people who are on "the wrong side of the tracks."
KS: I think Sons is an entertainment show. I always look at what I do as just that. It's a service, providing something for people. The fact that people had become so engaged and so invested in the story and the characters, that's done something for them; I think that's its own legacy. But legacy is such a big word. Really our job is to entertain, and I think we've done that.
JL: What is it about SOA that made it such a deeply-loved show?
KS: Lots of things. I think that people are fascinated with the outlaw world on bikes. Everybody thinks that's a sexy world. I think that the family drama element of it has really been a strong component, and Sons gives us a view into their world and then we see that they're just like us in a lot of ways. And then I think that it really has an exciting action component to it. There's also the unspeakable, the unknowable. Who knows why people love it? I'm just glad they do.
JL: As souvenirs, the guys on the show get to keep their cuts and their motorcycles. What keepsakes did you get to take home from the show, Katey?
KS: What girl doesn't love a little leather in her closet? The thing I really wanted and I did get was from the pilot. Gemma wore a brown leather coat down to her knees, and I wanted that coat. That was the first piece of clothing that we had made for her, so that's my keepsake. That's my cut.
JL: Are you going to keep all of Nero's cardigans, Jimmy?
JS: No, not all of them, but there's one that I really got my eye on.
JL: Since Nero never rode a motorcycle on the show, you must feel a little ripped off that you don't get to keep one, Jimmy. Have you ever been on a bike?
JS: Yes, I've been on motorcycles. When I first knew that I was going to be working with the show, Kurt and I were just having meetings and I didn't know where it was going to go, so the first thing I did besides re-watching all five seasons over a weekend, [was to go] out and [get] my motorcycle license. There's this great group of people in Southern California at a motorcycle training facility. I did a crash course and I got my license and I was pretty happy. And then I found out that it wasn't going to happen on the show. But for the past three seasons I kept hoping, so through the past three seasons I rode a lot with my stand-in who's a motorcycle rider, always keeping myself in tune, hoping for that day I'd open up the script and it says "…and then Nero jumps on Jax's motorcycle and goes away."
JL: There's always the finale…?
JS: That would be a spoiler. But let's put that one out there, "Nero jumps on the motorcycle and rides off…"(Winks)