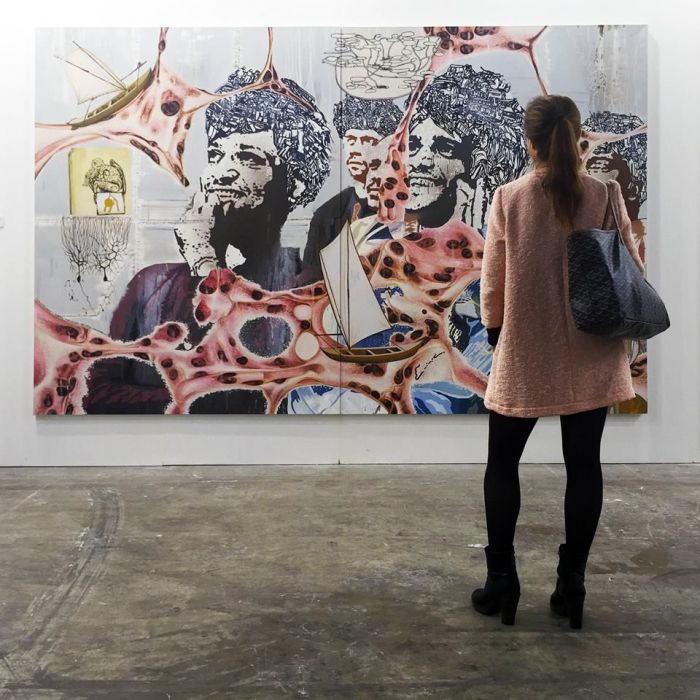 Photo Credit: Art Basel
Art Basel in Hong Kong had a pretty great turnout this year, having sold many pieces within the event's first few hours. Over the weekend, the event saw 233 galleries from 37 countries. With art collectors dropping millions for their favorite pieces, some artists and galleries definitely came out on top.
Photo Credit: David Zwirner Gallery
According to Art Net News, the New York-based David Zwirner Gallery sold artist Chris Ofili's Dead Monkey—Sex, Money and Drugs (2000)—which apparently utilizes elephant dung—for $2 million on Friday, as well as two paintings by Neo Rauch (Marina and Die Fremde) for one million each. The gallery also pulled in over $600,000 for their sale of two Yayoi Kusama Infinity pieces.
The Observer reported that Hauser & Wirth sold a piece from Polish artist Jakub Julian Zolkowski to a Shanghai art collector for $165,000. Overall, the gallery unloaded four Zolkowski artworks, eight paintings for Zhang Enli (ranging in price from $250,000 to $350,000), and four by Rita Ackermann at $75,000 apiece. Found in Hong Kong and Beijing, the booth from the De Sarthe Gallery was full of Chinese artists who lived in France for a time, like Zao Wou-ki, Chu Teh-Chun, and T'ang Haywen (all of whom had pieces sold to anonymous buyers for undisclosed amounts).
Photo Credit: Gagosian Gallery
The most popular booth was definitely the Gagosian Gallery's, with visitors packing the small area in hopes of snapping a selfie with Golden Buddha (2005) from Nam June Paik. The installation comprised of a golden Buddha figure staring at its own image on a television screen, captured by a webcam.
Artists fairly new to the scene also did very well, like Cambodian artist Leang Seckon, whose work was shown at Rossi & Rossi's booth. Buyers flocked to his work, which was priced pretty reasonably in a range of $4,000 for a small collage to $24,000 for a larger painting. New York's Eleven Rlvington, new to Art Basel, dedicated its space to abstract artist Mika Tajima and pulled in $14,000-$30,000 for several works.
Photo Credit: De Sarthe Gallery
The successful sales all point to Art Basel Hong Kong building a better foothold in the art industry. While the fair is incredibly popular in its other two locations, the Hong Kong event (which acquired Hong Kong Art Fair) has only been going on for three years now and in the past has been fairly overlooked. With its 50/50 split of Asian and western galleries, this fair really seems like it's full of new and emerging talent, instead of the usual names we've all been accustomed to seeing. It's probably safe to assume that 2016 is going to be even bigger and better.