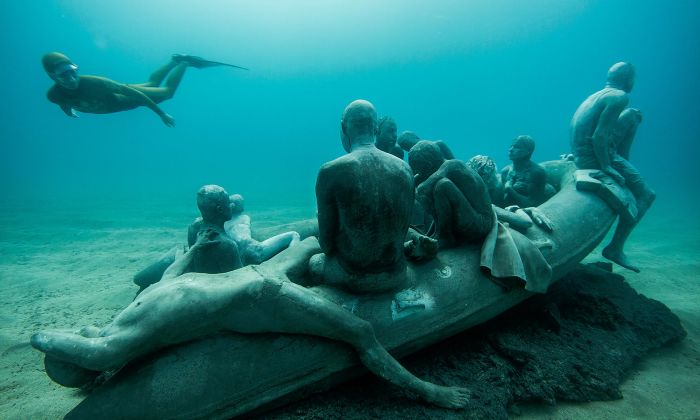 Photo Credit: Jason deCaires Taylor/CactlanZarote
British artist Jason deCaires Taylor's latest exhibit is eerie, beautiful and thought-provoking, and one which can only be seen by going 45 feet below the ocean's surface. Called Museo Atlántico, Taylor's work is Europe's first underwater museum and features over 300 sculptural pieces dedicated to "the dialogue between past and present and the divisions within society."
The collection, which opened to the public this month, sits at the bottom of the Atlantic Ocean in Bahía de Las Coloradas, on the south coast of Lanzarote. Spanning 8,202 square feet, his permanent creations can be seen by scuba divers or through glass bottom boats.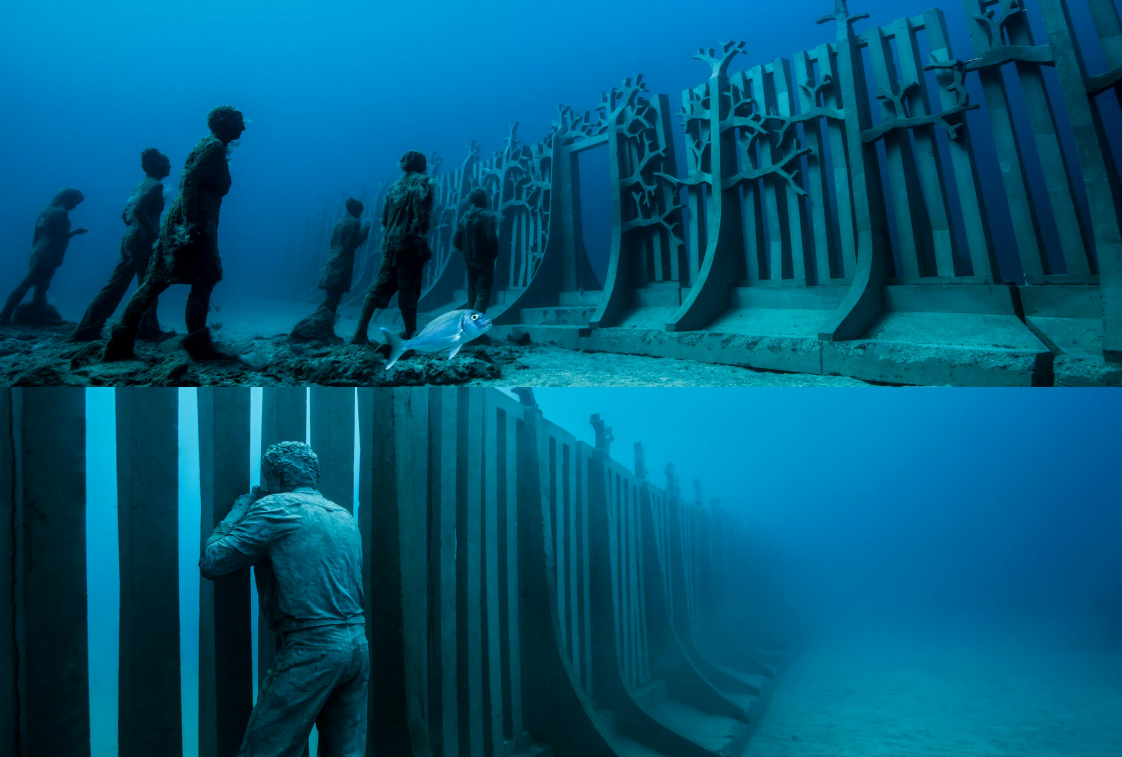 DeCaires Taylor's narrative depicts 21st century life with a focus on the refugee crisis. It pays tribute to those who've struggled to get to safety and those whose "dreams and hopes remain at the bottom of the sea," deCaires Taylor told The Local. In "The Raft of Lampedusa," you see a sculpted boat carrying 13 refugees and slowly sinking, its passengers wary and distressed.
Other sculptures depict today's tech culture with faceless humans taking sub-aquatic selfies and people glued to their smartphones. In "The Rubicon," 35 human figures walk along the ocean floor, an unnerving sight that could be straight out of a Sci-Fi movie. All 300 individual sculptures are divided into 10 installations, and all of them are heading toward one large wall, the entrance of a city.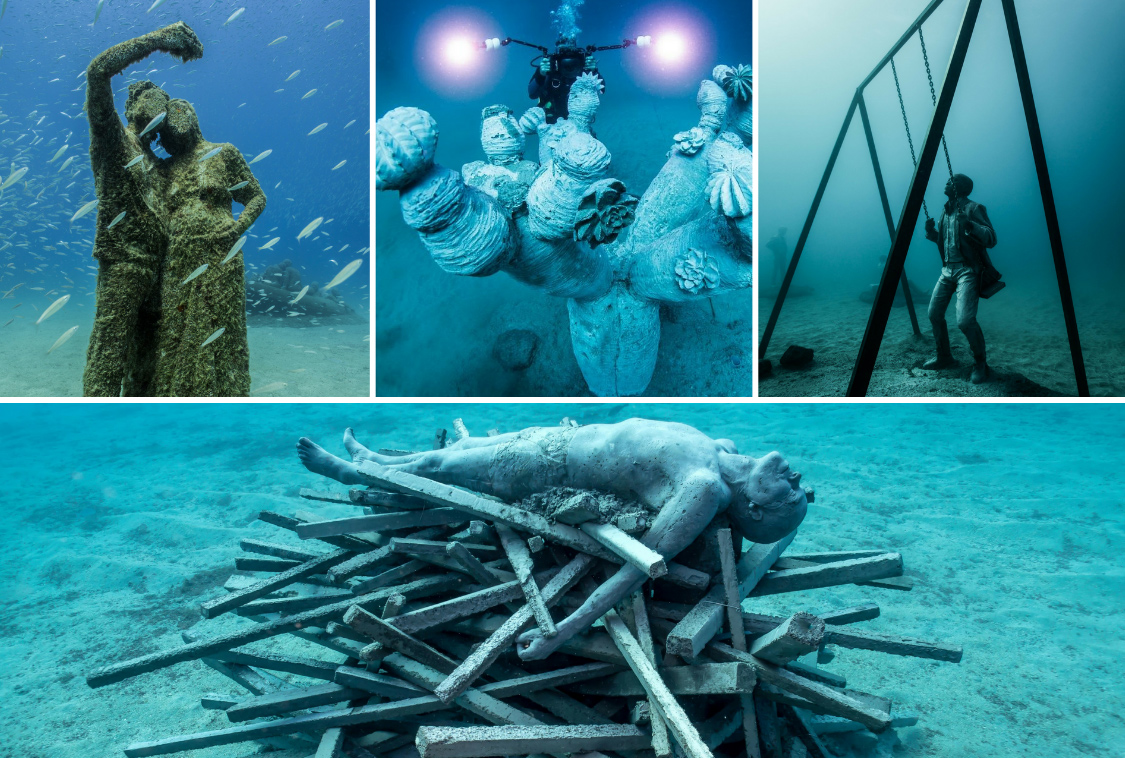 There's also a strong political narrative in this collection and many of the sculptures urge viewers to think about climate change and conservation. Fitting for the issues we face today, "The Raft of Lampedusa," is a reminder of our collective responsibility and our passivity regarding refugees.
Since the Atlantic's water is colder, coral growth is not as rapid as in the Caribbean, so deCaires Taylor's work showcases more detail. Making sure his pieces fostered the reproduction of fish species, deCaires Taylor crafted his collection with pH neutral materials designed to produce a habitat for marine life in the UNESCO-designated World Biosphere Reserve.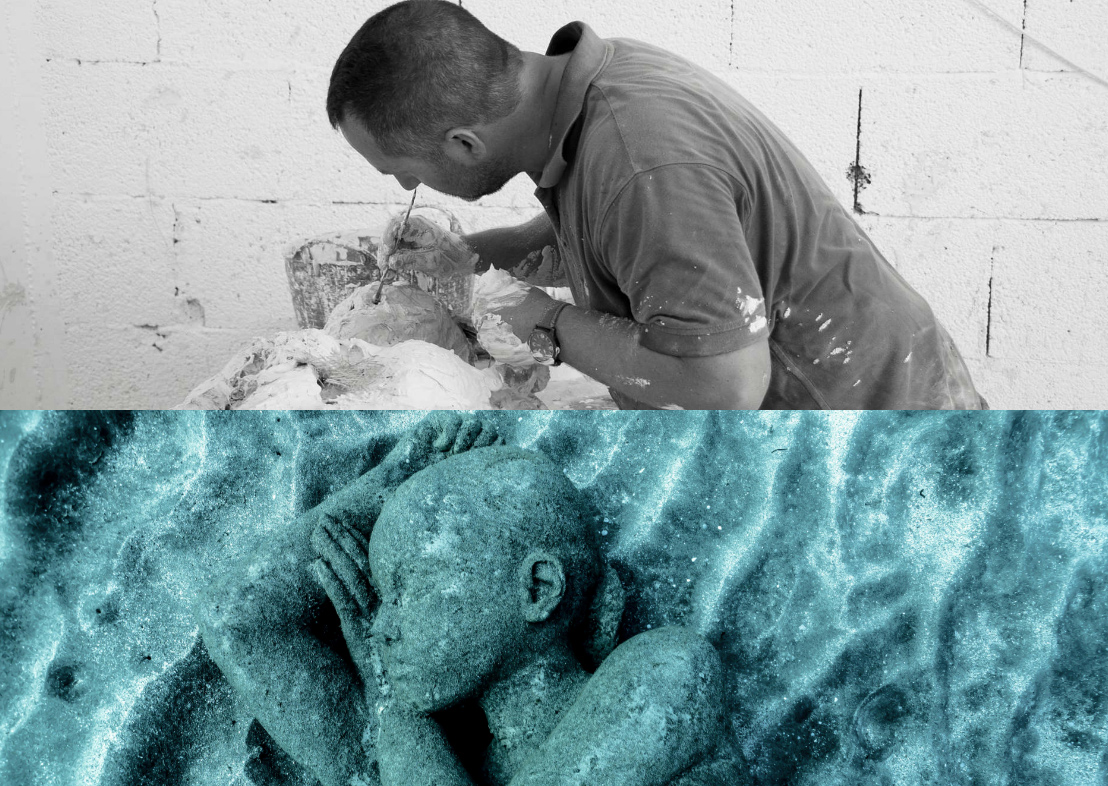 This is not the British artist's first work with underwater sculptures. His first project opened in 2006 in the Caribbean called the Molinere Bay Underwater Sculpture Park in Grenada. Three years later, he unveiled Museo Subacuático de Arte near Cancun which features over 500 permanent life-size sculptures. The exhibit is open from Monday to Friday from 10 a.m. to 5 p.m. and divers are restricted to a one-hour time limit.