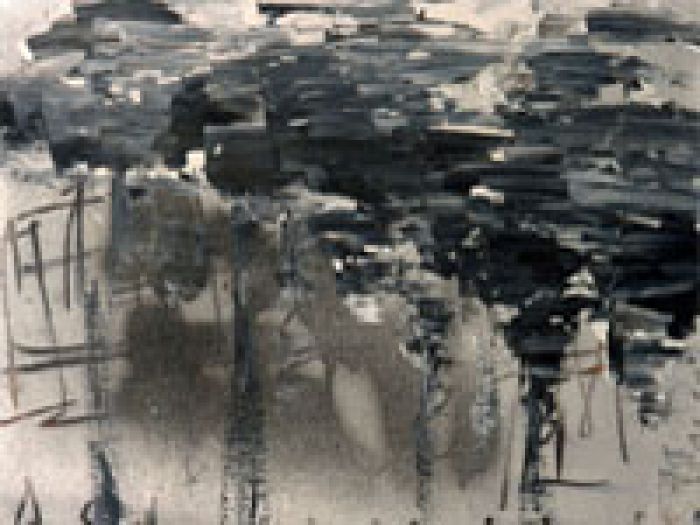 Arts & Culture:
Young and on the rise, artist Cole Sternberg is heading to southern California for his next show. And if you know what's good for you, you'll get there if you can.
Born in Richmond, Virginia and raised in Saratoga, California, the 30-year-old Sternberg has seen greatly increasing success, and it's no wonder why. On the heels of his sold-out show in Beverly Hills last fall, Sternberg headed to a major showing on Madison Avenue in New York, and is slated to appear next at the Kinsey/DesForges in Culver City, California. The show is yet to be titled, but from the look of his most recent work, it's sure to be a knockout.
Sternberg's use of the unconventional paired with the conventional allows for a very specific effect. With the bold shapes and colors of spray paint and the more subdued hues of slathered oils, more is being layered on the canvas than just different medias.
Mixing his style with a metropolitan, socioeconomic commentary, Sternberg's pieces pack quite a punch: high graphic impact with an in-your-face statement. Asking more questions than they provide answers, every canvas is drenched in the spray and oil, hiding and camouflaging the artist's thoughts and musings. They are not only stunning but food for thought, which explains their immense popularity. With pieces selling for anywhere between $1,000 and $60,000, Sternberg is climbing the ladder at quite a pace.

If incredible success in the gallery wasn't enough, Cole Sternberg is also putting his unique style to other tasks. On April 11th of this year, Fred Segal launched his limited edition line of hand-painted shirts and jackets, sold exclusively at Fred Segal stores, and Canvas in Malibu, California is currently selling his line of hand-painted shoes, launched in November of last year. On top of that, he is also working with Aga John to release a signature series of rugs to high-end retailers and individual interior design houses.

The apocalyptic undercurrent of his works makes them irresistible for the mind and eye steeped in today's egocentric, expansive culture. The 13 new pieces scheduled for unveiling in Culver City in July are sure to continue pushing the envelope and their creator, Cole Sternberg, to the top.

For LxM Kate Prihoda