Howard L. Rehs View Profile

Director | Rehs Galleries, Inc.
Buying Art – The Basics: Part X – A Work's Period
Nov. 18th, 2009 | Comments 1 | Make a Comment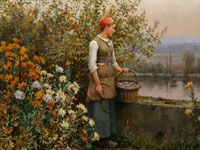 Arts & Culture:
Another important piece of the art buying puzzle is to know when a particular work was created ... and no matter what anyone says, this it is an important piece –- especially if you want to be sure you are paying the right price.
Many artists continue to paint their successful images (subjects) for many years (sometimes decades) and in general you will find that the earlier examples –- of the artist's signature style or image –- will be more expensive. This is more readily seen in historical (deceased) artist's works because prices are governed by the secondary market and not by the artist or their dealer whose goal it is to constantly push up the prices –- in other words, creating a market that is always improving. When works appear on the secondary market, we begin to see which specific works the general market fights for.
Knowledgeable secondary market buyers usually pay a premium for the earlier "signature" examples of an artist's work since these are often considered, in art historical terms, more important pieces ... coming from pivotal points in an artist's career. In order to illustrate this point I will use the works from the last phase of Daniel Ridgway Knight's career. Knight was a 19th century American artist who spent most of his life in France. By c.1895 he began concentrating his artistic efforts on images of pretty woman in local gardens ... a phase I call his Rolleboise Period. Not only were these early paintings exquisitely painted, but they were a commercial success. Knight began exploring this subject in the early 1890s and continued painting these highly sought after scenes until his death in 1924; a period that lasted some 30 years.

In general, you will find that prices for the earlier works (c.1895-c.1910/15) will be considerably more than works from the latter part (c.1910/15 – 1924). So, when it comes to works from Knight's Rolleboise Period, it is important to know when a specific work was painted in order to determine if the price is right. Complicating this issue is the fact that Knight rarely dated his works, so dating is done by careful examination of a work and comparing it to works whose dates are known.

For most artists, this "earlier the better" rule will usually hold true for similar sized works from the same period that are in similar condition and of a similar subject matter; but in the end, one must judge each work on its own merits.

Happy Hunting!

Howard L. Rehs
Rehs Galleries, Inc.
JustLuxe Contributor
www.rehs.com www.rehs.com