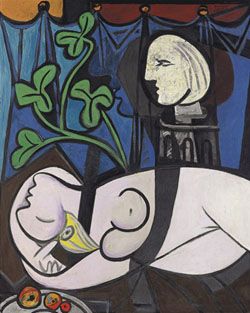 Arts & Culture:
An anonymous bidder made Pablo Picasso's Nude, Green Leaves and Bust the most expensive painting ever sold at auction. The seldom seen 1932 painting, which was part of a 27-lot collection owned by Mrs. Sidney F. Brody, sold for $104,482, 500 at an auction at Christie's in NYC. The full price includes the buyer's premium.
The painting supplants Albert Giacometti's L'homme qui marche I, a bronze statue circa 1960, that was auctioned at Sotheby's London in February 2009 for $104,327,006. The entire collection of Mrs. Sidney F. Brody sold for $224,177,500. The bidding opened at $58 million.
Prior to this auction, Picasso's Garcon a la pipe was the artist's highest priced painting of his sold at auction. It sold for $104,168,000 at Sotheby's New York in May 2004.
Source:
www.christies.com
;
ArtInfo