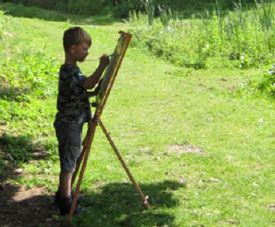 Arts & Culture:
Kieron Williamson is not your typical eight year old. He is Britain's most talked-about young
artist
. His paintings are selling as fast as the works are released. Dubbed Mini Monet by the British press, the child artist recently sold 33 pieces at an exhibition in 30 minutes for a total of $235,000.
Collectors worldwide want to own one of the boy's impressionistic landscapes of estuaries, snowy fields and wide marshland skies. The NY Post reported that there is waiting list of 300 patrons of the art who want to own an original Kieron Willamson in their collection. He already has more than 1,800 followers in 35 countries. The special interest in his work began at the first exhibition in August 2009.
Kieron's commitment to art is commendable for a boy his age. He spends as much time as possible with other artists to further advance his skill while attending school and playing soccer. Williamson lives with his family in Holt, which is about 125 miles northeast of London.

Kiieron Williamson is an emerging artist and a growing boy with extraordinary talent.

www.kieronwilliamson.com