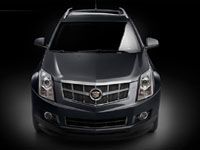 Luxury Crossovers:
Obviously, the Cadillac 2010 SRX Crossover is the "Cadillac of crossovers." However, when a luxury brand's name is used so synonymously when describing the best of all selections of so many other products, it is crucial that this statement goes beyond wordplay. Mission accomplished. This is a crossover that gets high marks for attractiveness and intelligence. Seamlessly combing elegance and performance with verve to spare, the 2010 SRX most assuredly lives up to its legendary name.
The new technologies increase efficiency and safety, according to Mark McNabb, North American VP of the Cadillac/Premium Channel. "The all-new SRX is a fresh and compelling crossover aimed squarely at the priorities of luxury buyers." He also said that the redesigned 2010 SRX Crossover focuses on both the emotional and the pragmatic sides of the luxury consumer.
The newly designed five-passenger crossover is for demanding consumers in search of the ultimate in luxury and practicality. Along with seating five comfortably, cargo space is plentiful, and it tows up to 3,500 pounds. The optional powered lift gate with memory height is a must-have luxury for practical convenience.

Its intuitively smart AWD system knows when to go to four-wheel drive for safety, and when to switch to two-wheel drive for maximum fuel efficiency and comfort. Additionally, its electronic limited-slip distributes torque from on the rear axle from side to side and from the front to the rear axle as needed. Its adaptableness to road and weather conditions is unparalleled.

Buyers have two options for engines, as the 2010 SRX is available with a standard 3.0-liter, double-overhead cams (DOHC) V6 that delivers 265 horsepower, or an optional 300 horsepower 2.8-liter, DOHC turbo-charged V6 alternative. The engines are the smallest displacement engines the automaker offers in North America. However, despite the engines' size, both utilize direct-injection technology that offers high performance as well as good fuel economy and a 25-percent reduction in hydrocarbon emissions.

The car's six-speed-automatic transmission, the Hydra-Matic 6T70, improves gas mileage by keeping the engine's RPM low at steady highway speeds. The manual shift lever gives a driver more leeway to enjoy the SRX's zip, while the "eco-mode" option maximizes fuel efficiency. The car is a performer with a heart of green.


This Cadillac is sporty throughout with its standard 18-inch aluminum wheels that accentuate the its body line, which taper downwardly at its rear. The spoiler on the rearward edge of the roof enhances its sleekness while improving aerodynamics. Cadillac's multi-piece shield grille and vertical headlamps add the finishing touch. The front-to back sunroof, the Ultraview offers passengers a breathtaking view. Twenty-inch aluminum wheels also are available.

Improving upon the interior of the 2010 SRX is a challenging proposition, as the 2009 model was named "Interior of the Year" in its class by Ward's Automotive. For convenience and aesthetics, the switches for the audio system and the climate control are positioned on an easily accessible integrated center stack. The navigational system rises out from the center of the instrument panel. Integrated iPod® connectivity, XM® radio, and OnStar® service also are available. The modern technology and classic craftsmanship are components that richly complement each other.

The 2010 Cadillac SRX Crossover is relationship material with curb appeal that clearly conveys the outward expression of an owner's inner-drive. For more information, visit Cadillac.com.

For JustLuxe