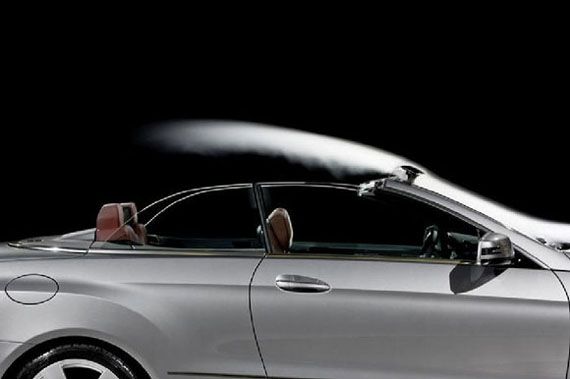 Luxury Car News:
Leave it to Mercedes-Benz when it comes to pitching a tent with style! The recently concluded Fashion Week in NYC held in Bryant Park was a captivating event that has left the industry abuzz. The one-off fashion show sponsored by the luxury automaker took place in specially designed tents at the park. The company's hookup with the fashion industry goes beyond the fashion show. It is showing up in its high-end luxury convertible models.
The slide-rule toting engineers at MBZ sharpened their pencils, hit the chalkboards, and developed a breezy way to minimize inside turbulence with its newly developed Aircap® system. According to the manufacturer, it minimizes turbulence, which means no more hair-raising, hairdo-ruining experiences from riding freely in a MBZ convertible. The technology is unveiled in the new E-Class Cabriolet, which is for sale this May.
Additionally, a new super sports car SLS AMG model, with zero to 60 in 3.8 seconds and a top speed of 196 mph performance stats, will be unleashed this summer.