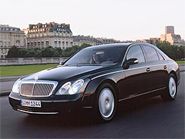 Luxury Auto:
I recently asked several parking-lot attendants at an upscale restaurant which luxury sedan they enjoyed driving the most. I was quite surprised when one vehicle, the Maybach 62, received unanimous thumbs-ups from the entire crew. The Maybach 57 also received its share of kudos. Maybe the big execs at DaimlerChrysler, which is owned by Mercedes-Benz, are also tuning in to those savvy parking-lot attendants too, because despite lower-than-expected sales from the Maybachs, a new addition may be forthcoming.
Germany's
Auto Motor und Sport
recently reported that a smaller, sportier Maybach 51 (5.1 meters) is expected by 2009. The shorter and sportier version is expected to house a V-12 engine and offer up 500 to 600 hp. It is expected to have a price similar to a Bentley Continental Flying Spur.
Did you know that there are no pre-built stock cars in the showrooms of most Maybach dealers except for demonstration models only? Each Maybach manufactured is a true work in progress until it is purchased. The pre-purchase segment of the transaction is quite the virtual event, as buyers are able to view options in an elaborate Maybach Studio. While in the studio, buyers select interior and exterior colors along with the upholstery and wood finish. Requests for extra or optional features are also handled at the "studio" level. The pre-purchase process is akin to that of commissioning a yacht or private jet. Four to five months later, a personalized Maybach is delivered to the buyer.
The standard features of a Maybach 62 and 57 are quite extensive and impressive too. There is an Airmatic-DC suspension system, adaptive cruise control, 19-inch wheels, and power-closing doors. A 21-speaker surround-sound Bose audio system and a rear-seat entertainment system with two screens make up the vehicle's entertainment system. A glass partition and intercom are available for chauffer-driven vehicles. Maybach also offers a Business Package that provides wireless Internet and Bluetooth functionality. There is a Maybach 57 S model too. The 57 S has unique interior and exterior appointments, 20-inch wheels, and a sportier version of the Airmatic suspension.
Drop a nice tip and get a good one in return. The next time I frequent that restaurant, I am going to have a prepared questionnaire to lay on those astute fellows.
For LxM James Rothaar