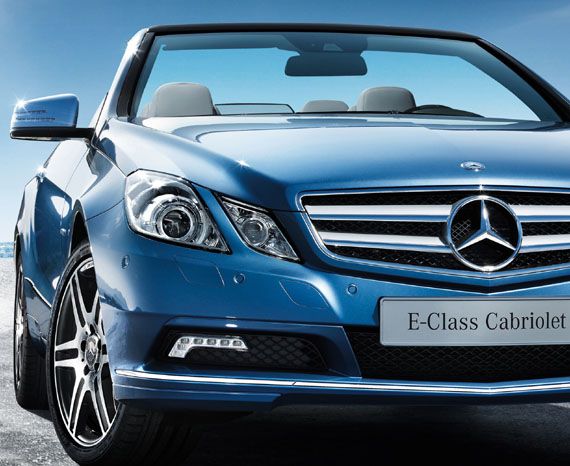 Luxury Cars:
What better way to spend your summer road trip than from behind the wheel of a 2011 Mercedes-Benz E-Class Cabriolet? The much-anticipated convertible is identical in size to the 2010 E-Class Coupe and packs just as much punch under its hood.
Unlike other convertibles in its class, the new cabriolet is not outfitted with a retractable hardtop, but rather a 0.9-inch-thick fabric roof that is both water and wind resistant. The unique design of the roof enables the cabriolet to offer additional trunk capacity, with an increase from 3.17 cubic feet to 13.8 cubic feet. Another added feature is the new AIRCAP® system, which is designed to limit the amount of wind intrusion into the passenger compartment up to speeds of 100 mph. The system includes a 2.4-inch wind deflector that extends from the windshield, as well as a draft-stop mounted behind the rear seats. The cabriolet also features the Mercedes AIRSCARF®, a luxury that was first introduced in the SL Roadster, which sends gusts of warm air around the neck of both the driver and front-seat passenger. With these highly-engineered advancements, drivers and passengers alike can cruise the streets in style in in all seasons, knowing that each hair on his or her head will remain perfectly intact.
When it comes to safety, Mercedes-Benz has once again pulled out all the stops. The cabriolet is equipped with two reinforced roll-over bars, which include a combination of robust A-pillars and plug-in B-pillars. Detecting potential hazards caused by skidding or impact, the tilting cone sensor automatically locks causing the pre-tensioned pressure springs to immediately activate. As the first Mercedes-Benz cabriolet to offer headbags, the convertible comes standard with seven airbags, including front and side airbags, a kneebag on the driver's side, as well as belt tensioners and belt force limits for each seat.

Powertrain options range from a 3.5-liter V6 engine, delivering 268 horsepower and 258 lb-ft of torque for the E350 cabriolet to a 5.5-liter V8 engine with 382 horsepower and 391 lb-ft for the E550 cabriolet. Both models have a seven-speed automatic transmission and are priced from $58,000 for the E350 and $66,000 for the E550.